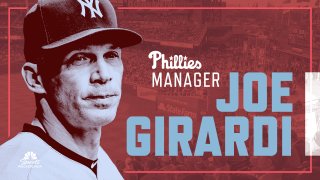 The Super Bowl is over. Big Red has his ring. Baseball is just around the bend. Spring training camps open next week in Florida and Arizona.
Opening day arrives March 26, the earliest ever. The Phillies will be in Miami that day to take on the Marlins.
The Phillies team that will report to Clearwater for spring training next week has undergone some change on the field – specifically with the additions of free agents Zack Wheeler and Didi Gregorius – and extensive change in several key management positions. Over the next four days, we will take a look at some of the management changes with profiles of four key people.
On Tuesday, we will profile new hitting coach Joe Dillon, who he is, where he comes from and what he hopes to accomplish.
On Wednesday, we will meet Brian Barber, a man who will help shape the future of the club as its new director of amateur scouting. Barber showed a scout's eye as far back as his freshman year in high school.
On Thursday, new pitching coach Bryan Price steps into the spotlight. He sees talented arms in the organization but knows "refinement" is needed. He'll tell us how he intends to approach that.
Our series concludes Friday with a look at new manager Joe Girardi and the roots that made him what he is as a person and a leader.
Dillon, Barber, Price and Girardi. Four men who can impact the Phillies greatly now and for years to come.
Check it out starting Tuesday morning right here on NBC Sports Philadelphia.
Subscribe and rate Phillies Talk:
Apple Podcasts / Google Play / Spotify / Stitcher / Art19
More on the Phillies