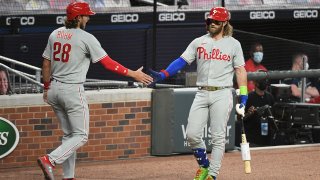 It was just a matter of time until Alec Bohm hit his first home run as a Phillie and this one was no cheapie. 
Bohm's 446-foot shot to center was the Phillies' first run Sunday in a 5-4 win over the Braves. Bohm went 3 for 3 with a homer, two opposite-field singles and a walk. He's hitting .344 with a .462 on-base percentage through 10 games.
With Bohm's power and the way he's been covering the plate since joining the Phillies, you got the sense he was due to go deep. In fact, Bohm said three of his Phillies teammates actually predicted to him Saturday that his first home run would come Sunday.
Phil Gosselin, Neil Walker and Tommy Hunter were proven right.
"I was off yesterday and there were three people who said you're gonna hit a homer tomorrow. And here we are. It was pretty cool," Bohm said.
Bohm's homer landed in a small pond out past center field at Truist Park in Atlanta. A mic'd up Freddie Freeman joked with him a few innings later that it would make for a great story someday that his first home run ball was waterlogged.
"Anytime you're standing next to an All-Star and he's saying nice swing, it's pretty cool," Bohm said. "It kinda reminds you where you are."
Bohm did eventually get that ball back. His Phillies teammates handed it to him in a cup of water.
Bohm has not been consistent enough defensively at third base so far, but his career is also only 10 games old. He's such a crucial piece of the Phillies' future that it's worth letting him sink or swim at the hot corner this summer to gauge how realistic it is to keep him there long-term.
There is no question about his bat, though. His bat was why he was drafted third overall in 2018 and why it took only two years for him to reach the majors.
"We really think he's gonna hit," manager Joe Girardi said. "He's young and he's a work in progress. He uses the whole field. He hits the ball extremely well to right-center and to left-center. We think he's gonna be here a long time."