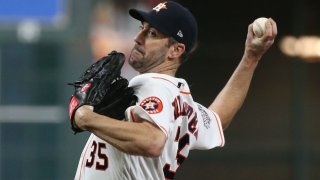 Two days after losing Jacob deGrom to the Rangers in free agency, the Mets have reportedly agreed to a gargantuan two-year deal with Justin Verlander.
To replace the starting pitcher with the lowest ERA in baseball over the last five seasons, they're bringing in the starting pitcher with the second-lowest ERA in baseball over the last five seasons.
It's a two-year, $86.6 million contract for Verlander with a third-year option worth $35 million, according to Jon Heyman of the New York Post. Another short-term deal with a close-to-record-setting annual average value after the Mets signed Max Scherzer last offseason to a three-year, $130 million contract that also averages $43.3 million per year.
Verlander was the unanimous AL Cy Young winner in 2022 after going 18-4 with a majors-best 1.75 ERA and 0.83 WHIP. The last three seasons that he's made more than one start (2018, 2019 and 2022), he's won the AL Cy Young award twice and finished second.
The Phillies faced Verlander three times in their final month in 2022, twice in the World Series. They hit him hard in a Game 1 win but mustered only one run and stranded seven baserunners in his five innings of Game 5. That was Verlander's first win in nine career World Series starts, the only blemish there had been on a Hall of Fame resume that includes two World Series, an MVP, three Cy Youngs and a Rookie of the Year award.
With 244 wins, Verlander also has an outside shot to become the final member of the 300-win club if he can pitch through age 43. It's unlikely, but that's exactly the sort of historical accomplishment -- to become the last entrant into an exclusive club that speaks to durability, reliability and a certain level of machismo -- a pitcher would push for.
The Phils will be seeing much more of Verlander the next two seasons, though remember that MLB's schedule changes in 2023 to allow for all teams to face each other. The Phillies and Mets have four series rather than the six they've become accustomed to.
The Mets were desperate to add to their rotation, which was a major strength in 2022. Beyond the loss of deGrom, they had Chris Bassitt and Taijuan Walker reach free agency. Buck Showalter's rotation now includes Verlander, Scherzer, Carlos Carrasco and one of Tylor Megill/David Peterson. They're not finished adding. They could bring back Bassitt or opt for another mid-rotation free agent. That group includes Jameson Taillon, Bassitt, Walker, Sean Manaea, Andrew Heaney and Nate Eovaldi. They also can't be ruled out for Carlos Rodon, not with owner Steve Cohen's desire to win.
The Phillies are also said to have interest in the 30-year-old Taillon, who went 14-5 with a 3.91 ERA and 1.13 WHIP in 32 starts with the Yankees last season.
Subscribe to Phillies Talk: Apple Podcasts | Google Play | Spotify | Stitcher | Art19 | Watch on YouTube