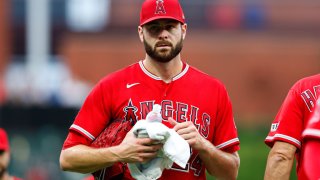 Philly is where the Angels come to pack it in, apparently.
The last time they visited Citizens Bank Park in June 2022, they were swept and fired manager Joe Maddon a day later.
On Tuesday night, prior to the middle of a three-game series against the Phillies, they placed five veteran players, three of whom they acquired at the trade deadline, on waivers, according to ESPN.
The five players are starting pitcher Lucas Giolito, outfielders Hunter Renfroe and Randal Grichuk and relievers Reynaldo Lopez and Matt Moore. Giolito and Lopez were acquired from the White Sox on July 26. The Angels traded with the Rockies for Grichuk and C.J. Cron four days later. They were going all-in in an attempt to secure a wild-card berth and entice impending free agent Shohei Ohtani to stay. It didn't work. The Angels are 7-18 since deadline day.
All five waived players are free agents to be. They now go through waivers and if claimed, will have their remaining salary absorbed by their new team. For the Angels, it's simply a way to save some money at the end of another lost season. The timing is not coincidental as the players would be eligible for another team's postseason roster if added by August 31 at 11:59 p.m.
It is not uncommon for players to be placed on waivers this time of year. The Athletic reported Tuesday that the Mets and White Sox did the same with right-handers Carlos Carrasco and Mike Clevinger. The drastic change in the Angels' course, stands out, however.
The waiver order is the standings reversed. The team with the worst record in the league is first up, the team with the best record is last. Previously, priority was given to the player's league — a waived National Leaguer would have to pass through all NL teams before an American League team would have a chance — but that is no longer the case.
Renfroe and Grichuk both took batting practice at Citizens Bank Park Tuesday afternoon and were in the Angels' starting lineup, batting eighth and ninth. They are eligible to remain in the lineup with the waiver period lasting 48 hours.
The Phillies are trending in the opposite direction. They beat the Angels, 6-4, in Monday's series opener. They've won four in a row and have scored 79 runs in their last 11 games.