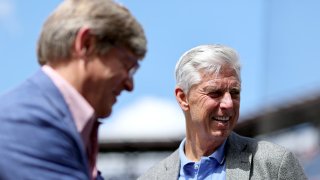 The question the Phillies will have to answer with their actions at some point this offseason, a question they've pondered internally for months, is whether it makes more sense to sign Aaron Nola to a contract approaching $200 million or to find an alternative via free agency or trade.
Two of the top three free-agent options aside from Nola are left-hander Blake Snell and right-hander Sonny Gray. Snell, 30 years old like Nola, is the favorite to win the 2023 NL Cy Young award after going 14-9 with an MLB-best 2.25 ERA in 180 innings. Gray, who turned 34 earlier this month, has been quietly outstanding the last five years with a 3.22 ERA and 1.15 WHIP. His ERA was 2.79 this past season.
Snell's contract could mirror Nola's — estimates seem to be six or seven years in the vicinity of $30 million annually.
Gray, being four years older, is more of a candidate for a four-year deal in the $90-100 million range.
There is also the upside play of 25-year-old right-hander Yoshinobu Yamamoto, who is moving to the majors from Japan. He has probably generated more excitement than any Japanese player since Shohei Ohtani and may end up with a contract exceeding $200 million. He's put up absurd numbers the last four years in Japan with an ERA in the low-1.00s.
Stamina and durability set Nola apart from Snell and Gray, at least to this point in their respective careers. Nola has not missed a start since 2017. He's averaged 199 innings pitched over the last five non-shortened seasons. Over that same timeframe, Snell has averaged 145 innings and Gray has averaged 149.
Nola has gone deeper into games far more frequently than Snell and Gray. Consider this simple fact: Over the last six seasons, Nola has faced 1,122 batters in his third time through a lineup. Snell has faced 598 and Gray 657. They've taken their teams as deep into a start as Nola about half the time.
There is more than one way to interpret Nola's track record of durability, though. It could mean he is the surer bet for a team looking for the combination of quality and quantity, or it could mean the workloads are due to catch up with him.
If the Phillies strike out in free agency or deem another pitcher under contract more appealing and realistically gettable, they could find their Nola replacement via trade. Four potential options would be Tyler Glasnow of the Rays, Shane Bieber of the Guardians, Corbin Burnes of the Brewers and Dylan Cease of the White Sox. All but Cease are set to reach free agency after the 2024 season, with Cease taking his turn the following offseason.
There are nits to pick with each one. Glasnow's 120 innings this past season were his career-high. Bieber has the least swing-and-miss stuff of the group and showed some concerning downward signs in 2023. Burnes may not actually be available given his importance to the Brewers and Brandon Woodruff's expected lengthy absence next season after shoulder surgery. Cease and Snell share similar red flags of durability, length and wildness.
Excluding Burnes, are any of those pitchers better bets than Nola, factoring in the expected price tags?
There's also someone like Luis Castillo of the Mariners. He has four guaranteed years and $91 million remaining on a contract he signed with Seattle in September 2022. The Mariners' president of baseball operations, Jerry DiPoto, is hyperactive with transactions and is always looking for creative ways to reformat his roster (which tilts heavily toward starting pitching) given the organization's payroll constraints. Castillo's deal is entirely backloaded, with only $10 million in salary paid this past season and $22.75M each of the next four.
The value of acquiring a pitcher already under a long-term deal is the cost certainty. The detriment is the cost in prospects. Castillo, for example, might very well outperform Nola over the next four seasons while pitching on a contract worth $100 million less, but is that worthwhile if it costs you two of your top five prospects or potentially more?
These are the kinds of conversations likely taking place within the Phillies' front office as they figure out how to attack their stated top priority of front-end starting pitching.