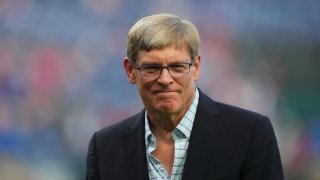 The Phillies are set to add a new limited partner to their ownership group.
In a press release Tuesday morning, the club announced that Stanley C. Middleman will purchase a 16.25% interest.
"As a result of the recent passing of longtime Phillies owner William C. Buck, the Buck family has decided to diversify its assets by reducing its ownership interest in the club," the Phillies wrote in their release. "Late last week an agreement was reached whereby Middleman will purchase one-third of the Buck family interest. Tri-Play, the Buck family limited partnership that holds the Phillies interest, will continue to be owned by the three family branches."
The transaction remains subject to MLB approval and is expected to close in July.
Middleman is the founder and chief executive officer of Freedom Mortgage Corporation. He's a Philadelphia native and Temple University graduate.
"I'm delighted to be joining such a wonderful organization. It truly is a dream come true," Middleman said. "Having grown up in Philadelphia, and spending my childhood as a huge Phillies fan, I feel truly blessed to have such an amazing opportunity in my lifetime. My family and I hope we can be a small part in the continuing success of this world-class sports organization."
John Middleton will remain the Phillies' managing partner and CEO.
"This is a significant moment in our partnership's history as it is only the second time in over 40 years that we have added a new partner," Middleton said. "As evidenced by the great success of Freedom Mortgage, Stan is driven to succeed. I admire his passion, commitment and perseverance in building his business. Those qualities, and many more, make Stan an important addition to our ownership group, and we are excited to welcome him to this organization."