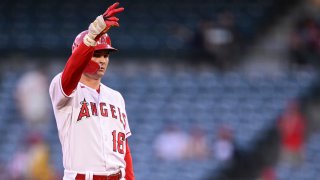 Baseball is like a spider web. An invisible new strand is formed every time a player or front office member changes organizations. Six degrees of separation? In baseball, it generally takes far fewer steps to find a connection.
The thought recurred Monday when the Phillies and Angels met for the first time since completing what seemed, at the time, to be a fairly inconsequential deal on August 2, 2022. Technically, two deals. Phillies GM Dave Dombrowski simultaneously swapped heralded catching prospect Logan O'Hoppe for outfielder Brandon Marsh and then sent former first overall draft pick Mickey Moniak plus minor league outfielder Jadiel Sanchez to the Halos for veteran righthander Noah Syndergaard.
Some questioned giving up a blue chip like O'Hoppe for an outfielder who was hitting .239 with a .653 OPS over parts of two seasons with the Angels. An Inquirer columnist sniffed that while it gave the Phils a large defensive upgrade it included only "some offensive potential."
Some doubted that Syndergaard had enough left to be much help to a team that was clinging to a tie for the last available wild card spot with a 55-48 record. On the other hand, the Inquirer compared Moniak to a two-dollar scratch-off that wouldn't be missed.
As usual, time has helped bring the bigger picture into focus.
Marsh, hitting .226 at the time of the trade, batted .288 for the Phillies the rest of the way in addition to improving the defense. Syndergaard was allowed to become a free agent at the end of the season, signed with the Dodgers, was traded to the Guardians and designated for assignment by Cleveland on Sunday. But the Phillies went 7-3 in his appearances down the stretch.
Since the Phillies slipped into the postseason by just one game over the Brewers, it's not a stretch to suggest that they might have fallen short without their contributions.
Meanwhile, Moniak and O'Hoppe were both in the Angels starting lineup last night.
Moniak went 3-for-4 with a triple and an RBI in the Phillies 6-4 win. O'Hoppe went hitless although he hit a screaming one hopper that could have scored at least two runs in the first, only to be robbed on a nice play by shortstop Trea Turner.
On the Phillies side, Marsh had two singles, stole a base and drove in a run.
The Phillies fully expected O'Hoppe, whose path to the big leagues was blocked by J.T. Realmuto to blossom. Moniak never quite found himself with the Phillies and was batting .129 in 47 big league games when he was traded but Rob Thomson said he never doubted what he was capable of.
"He went through some rough patches here," the manager said. "We knew he was a good player. And he's going to get even better. But when we made those two trades it helped our ballclub. It wasn't that we didn't think much of them. We just wanted to better our ballclub. We needed starting pitching and Syndergaard did really well for us. We got Brandon Marsh. He's turned into a really good player."
"(Moniak) had a great spring training for us last year (.378 with 6 home runs). Unfortunately, gets hit on the hand by a pitch and after that never really got it going. But he played well enough to be our starting centerfielder."
SUAREZ UPDATE
Lefthander Ranger Suarez is on track to return to the Phillies rotation as early as this weekend in Milwaukee after throwing live batting practice at Citizens Bank Park before Monday night's game against the Angels.
The usual caveats apply. First, Suarez must show up Tuesday showing no ill effects from the 29 pitches he threw to Rodolfo Castro, Cristian Pache and Garrett Stubbs. If he passes that test, he'll throw another bullpen Friday. And if he still feels good the day after, he should then be activated from the injured list. He's been sidelined August 16 with a strained hamstring.
"His stuff was good," said manager Rob Thomson. "We're shooting for the Brewers series but we don't know for sure."
NOTES ON A SCORECARD
Bryce Harper returned to first base Monday night after starting the previous seven games at designated hitter due to lower back tightness.
After hitting five home runs in his first 77 games after coming off the IL following Tommy John surgery, Harper has now hit eight in his last 20 games. He's 27-for-92 (.375) in that stretch.
Bryson Stott stole his 25th base Monday night, the first Phillie to reach that milestone since Odubel Herrera finished with 25 in 2016. Trea Turner has 23.
Taijuan Walker now has 14 wins. That's tied for second in the National League.