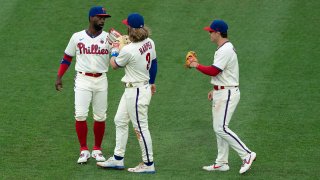 The Phillies scored 48 runs in seven games last week, six in each game of their sweep of the Mets.
For the week, they hit .286/.341/.484. They hit 12 doubles, three triples and eight homers. 
And it wasn't all about Bryce Harper and J.T. Realmuto. Harper, Realmuto, Rhys Hoskins, Jean Segura, Didi Gregorius, Alec Bohm, Jay Bruce and Andrew McCutchen all had productive weeks.
Hoskins, who was criticized as heavily as ever the week before, responded by going 8 for 26 (.308) with three doubles, four RBI and seven runs scored in the seven games against the Orioles and Mets. He may be turning it around. His three-run double Saturday night to right-center field was just what he needed and just what the Phillies needed to see him do. Hoskins is a pull-hitter who, for his career, has ended a plate appearance by going the other way less than 9% of the time. He's watched his teammate, Realmuto, reach an even higher offensive level by using the whole field. Some aren't able to do it as consistently as others, but it's what Hoskins needs to do to be better than the .225 hitter he's been since the start of last season.
McCutchen hit the game-winning home run Sunday, the day after Hoskins delivered his team's biggest hit. If the Phillies' one- and two- hitters can heat up ahead of Harper and Realmuto, the Phils can continue to do this kind of offensive damage.
The Phillies are fifth in the majors in batting average, third in on-base percentage and third in slugging. It's a really good offense. 
What could stand in the way of this groove continuing is the series of injuries they've suffered over the last few days. Segura (hamstring) and Bruce (quad) both left Sunday's game early. Roman Quinn was placed on the IL Sunday morning after experiencing minor symptoms of COVID-19. Adam Haseley was placed on the IL Friday with a wrist sprain and is first eligible to come off Aug. 21. 
Segura's injury might be the most concerning. He missed time with a hamstring strain last season and has had at least five trips to the IL with hamstring injuries since debuting in the majors. 
"There are always concerns," manager Joe Girardi said after Sunday's 6-2 win. "Whenever a guy has something like this, there are always concerns. Jean's had a history of it. Hopefully, whatever it is, they're really mild, they go away they're going to be OK."
Segura had been settling in at second base with Bohm at third and Scott Kingery now playing center field while Quinn and Haseley are out. If Segura is forced to miss time, the Phillies will probably have to play Neil Walker at second base because Kingery has to man center until one of Quinn/Haseley is back.
McCutchen used to play center but the Phillies aren't going to put him there a year removed from ACL surgery. McCutchen hasn't yet played the field three days in a row this season. The only other possibility to play center field on the Phillies' active roster is Harper, who played there 63 times in his final season with the Nationals and has nearly 1,400 big-league innings at the position. But Harper is most comfortable in right, he's been effective there, he's stayed healthy, and the Phillies have shown no desire to play him in center. 
We'll get a better idea of how the pieces fit as the Phillies begin a series Tuesday against the 6-16 Red Sox, losers of seven straight.