August finally comes to an end and so does the most exciting month of regular season baseball I have ever witnessed in my lifetime.
Sure, that may seem like a strong introduction but if you've watched the Phillies the past few weeks … you understand.
If you haven't been keeping up with this red-hot team, let's catch you up really quickly.
They wrapped up the month with an 17-10 record, putting them at 74-59 overall, propelling them to a season-best 16 games over .500.
Their 59 home runs in August are a franchise-best.
… And those are just a few simple stats stats. In terms of excitement, this was a month filled with thrilling moments compressed into 27 games.
Let's take a look back at some of the most incredible storylines.
The Trea Turner turnaround
We all know by now that Turner started off his first season as a Phillie historically slow for his career. There were offensive slumps and defensive errors left and right … it simply did not make sense. Surely, this would only be temporary, right? The two-time MLB All-Star would right the ship eventually … right?
Enter August.
A call to action from WIP's Jack Fritz encouraged fans to show their support for the shortstop by cheering him on during his at-bats. Not only did Phillies fans respond, they went above and beyond. Call it the craziest coincidence in history … or, the fans actually created the spark Turner needed to get back on track.
The initial moment brought chills to anyone watching:
And it was not overlooked by Turner, either:
The Phillies wound up losing the game … but they gained the Turner everyone was waiting for.
Night of the no-no
Michael Lorenzen's Citizens Bank Park debut will go down in history (seriously, his vans were shipped to Cooperstown immediately following the game). A casual Wednesday night in August against the Nationals turned into the Phillies' 14th no-hitter in franchise history.
What's even crazier is how that was only one of three huge storylines of the evening.
How many players can say they made their MLB debut during a no-hitter … and also hit their first-career MLB home run in their first at-bat? Weston Wilson can.
And we can't forget the pair of home runs from Nick Castellanos that brought him to no. 200 of his career.
What a night. What a game. This may very well go down as the most memorable game of the season.
Giant success against San Francisco Part 1
So much happened in this series it had to be broken up into two separate parts. It was that chaotic.
The nine-game homestand to end the month began when the Giants rolled into town. It was at this point where a switch went off across the city and somehow a Monday in August felt like a crisp October night (meaning the atmosphere … the humidity still certainly felt like August).
It genuinely felt like the playoffs and was easily the loudest regular season game I've ever heard.
The Phillies finished the night with four home runs — one being an inside the park from Bryce Harper.
Giant success against San Francisco Part 2
We should've known this was going to be a night to remember when the broadcast started with John Kruk showing off a t-shirt he was gifted with a picture of himself as a baby on it.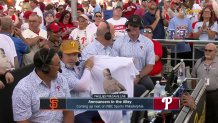 The crew was out in Ashburn Alley for the game. Why does this matter, you ask?
Only because we received one of the best calls of the season with a Turner walk-off.
The Phillies wrapped up that series taking two of three from Gabe Kapler's club. (Which did, in fact, make it a little sweeter.)
Gotta catch (and hit) 'em all
Let's circle back to Turner. It's been talked about at length since the ovation but it genuinely does not get old. He finished the month with nine home runs and two multi-homer games (one set being in the same inning!!!). Turner also collected 10 extra base hits, 26 RBI and rounded the month hitting .324.
It's going to be such a treat to see what else is in store for No. 7.
Harper hits 300
The Phillies weren't able to complete the sweep against the Angels but were *this* close thanks to a Bryce bomb. Trailing in the bottom of the eighth, Harper answered the call, drilling a two-run home run and once again stepping up to the moment.
Have you ever watched a more clutch player in your life?
To be able to hit his 300th home run in front of the home crowd meant a great deal to Harper and he expressed his love and gratitude for the city following the game:
In the nine-game homestand, Harper hit .471, had 16 hits, six home runs and 15 RBI.
In-freaking-credible.
The Phillies got hot at the perfect time and if August was any indication of what September and beyond can look like for this club — we're in for a very exciting fall.