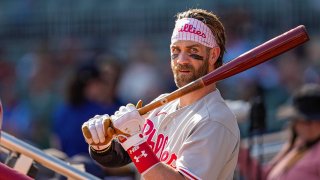 Think of a baseball season as an obstacle course. Each series represents a hurdle. Some are relatively low. Others may be higher and more treacherous.
A team with championship pretensions — the Phillies certainly fit that profile coming off a trip to the World Series followed by an additional commitment of nearly $400 million to Trea Turner, Taijuan Walker and Craig Kimbrel — is expected to easily scale the less challenging barriers and at least hold its own against the tougher road blocks.
And that's why, it seems, the Phillies schedule has brought the team to its first real fork in the road.
By beating the Tigers, 3-2, Thursday night at Citizens Bank Park in a makeup game from Wednesday's air quality-induced postponement, they extended their winning streak to five games. That matches their season high. Woo hoo.
Not to go all Negadelphia here. You can only beat the team in the opposite dugout. But those wins came at the expense of the last-place Nationals and a punchless Tigers team that has been wracked by injuries and outscored by 71 runs this season. The kind of teams, in other words, that contenders are supposed to fatten up against.
The Phillies, for all their recent success, are still two games under .500, in third place of their own division, outside the circle of teams that would make the playoffs if the season ended today.
And the coming attractions look like a string of scary movies, to say the least. The party line recently has been that they've begun to hit their stride. If so, this would be a splendid time to prove it.
Three games against the Dodgers, starting Friday night at home. Then on the road again, flying three time zones away, for four at Arizona and three in Oakland. Then crossing the continent again for home series against the division rival Braves and Mets.
"I'm absolutely looking forward to it," manager Rob Thomson said. "I think we're playing good baseball right now. Our guys are up for the challenge. It's a resilient group. I'm excited. We'll see what happens."
Here's the thing, though: Against teams with a losing record this season, the Phillies are 20-12 (.625). Against teams .500 or better, they're 10-20 (.333). That's an issue that has yet to be rectified since they were swept by the Dodgers in Los Angeles, being outscored 36-11 in the process, the first week in May.
The first-place Diamondbacks took two of three at CBP two weeks ago. The Braves have the National League's best record. Even though the Mets are three games under .500, they swept the Phils last week at Citi Field.
When Charlie Manuel managed the Phillies, one of his stock lines was, "To be the best you have to beat the best."
So far, the Phillies haven't passed that test.
The only respite during this gauntlet will come in Oakland, where the A's are seven games off the pace ... of the 1962 Mets, who hold the dubious distinction of losing 120 games, more than any other team in modern history. But second baseman Bryson Stott cautioned beating even a stripped-down Oakland roster isn't as easy as just skipping over the foul line.
"You're in MLB. Every player you're going to face is one of the best players in the world. So you never look past anyone," he pointed out. "You want to play the best teams in the league, but at any given time that could change.
"Any time you go out there you kind of seeing how you're playing against the rest of the league, no matter who you're playing. It's kind of who's playing the best at that time. When we went to Atlanta (May 25-28) they were playing really good. To split there, we were able to see how we were stacking up against them. But any time you're playing a Major League team, you're kind of seeing where you're at."
It would be silly to suggest that this portion of your handy pocket schedule will unalterably set the Phillies' course for the remainder of the season. But it sure looks as though it could be headed in the right direction or have taken a turn for the worse.
"Just gotta keep winning," Bryce Harper said.
Pitching matchups for the Dodgers series:
• RHP Michael Grove (0-2, 8.14) vs. LHP Ranger Suarez (1-2, 5.47), Friday at 7:05 p.m.
• RHP Bobby Miller (2-0, 1.06) vs. RHP Aaron Nola (5-4, 4.30), Saturday at 4:05 p.m.
• TBA vs. RHP Taijuan Walker (5-3, 5.04), Sunday at 1:35 p.m.
Wednesday's postponement means the Phillies will now have their next bullpen game Monday in Arizona.
Reliever Jose Alvarado, who had an 0.63 earned run average before going on the IL with elbow inflammation, will be activated Friday. In two one-inning rehab appearances he allowed two runs on four hits.
"I feel good. Everything is good," he said. "Every rehab, it's nothing about results. It's all how you feel."