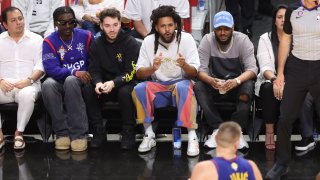 The NBA Finals is the biggest stage in basketball.
While players are fighting for the Larry O'Brien Trophy, fans are fighting for tickets to see it all play out.
Acquiring seats at these games isn't always the easiest process, though, considering the spike in prices during the postseason.
Here's a breakdown of the ticket pricing for the NBA Finals and how much courtside seats cost:
What is NBA courtside?
NBA courtside is exactly what it sounds like -- the seats closest to the action, literally located on the side of the court.
NBA stadiums have seats all around the court, giving fans an opportunity to feel like they're right inside the action. From this close viewing point, you really get the perspective of how fast, big and strong the players are.
How much is a courtside seat in the NBA?
Courtside seats are, as expected, the most expensive tickets for NBA games.
It depends on the game and the city, but courtside seats generally cost in the four-figures. Attending a game at Madison Square Garden in New York, Chase Center in San Francisco or Crypto.com Arena in Los Angeles could cost even more.
During the 2022-23 regular season, the average courtside seat went for around $2,000, according to Sportskeeda.
How much do front row tickets cost at the NBA Finals?
Sitting courtside at the NBA Finals is going to cost you a pile of cash.
Looking ahead to Game 4 at Miami's Kaseya Center, courtside seats for Nuggets-Heat range from a low of $27,795 to a high of $46,326 per ticket, according to SeatGeek.
The series will shift to Denver's Ball Arena for Game 5, as courtside ticket prices drop slightly. The cheapest courtside seat for Game 5 on SeatGeek is $6,040, while the most expensive reaches $41,082.
Why do celebrities sit courtside at NBA games?
If you have the money, wouldn't you?
Depending on the celebrity, their reason for going can vary. Some high-profile names -- like Spike Lee for the Knicks or Jack Nicholson for the Lakers -- are legitimate fans of their local teams. Other times, athletes from other teams in the city will sit courtside as part of an agreement between the local franchises.
Celebrities often don't have to pay for these premium seats, as just their appearance at the game is good for the NBA and the team.