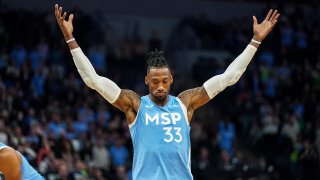 With under a month until the Feb. 6 trade deadline, names are swirling around, hypotheticals are being floated and various levels of interest are being reported.
According to The Ringer's Kevin O'Connor, the Sixers have "inquired about" Robert Covington and "expressed interest" in Andre Iguodala.
Both players will be familiar to those who follow the Sixers. 
Covington was a key part of the Sixers' trade last season for Jimmy Butler. He rose from undrafted to D-League standout to "Process" success to First Team All-Defense for the 2017-18 season. 
Iguodala was the No. 9 pick in the 2004 NBA draft, spent the first eight years of his career in Philadelphia and was the MVP of the 2015 NBA Finals. The 35-year-old was dealt from the Golden State Warriors to the Memphis Grizzlies this summer but hasn't played a minute in 2019-20 — Memphis denied his request for a buyout, so both sides are hoping they can find a satisfactory trade.
Logistically, is a trade for either player reasonable?
Covington is making $11.3 million this year, so the Sixers' offer would likely need to center around multiple bench players. 
According to O'Connor, "Minnesota could have so many bidders for Covington that the price will be too high for Philadelphia to make a reunion a reality."
He reports 2018 first-round pick Zhaire Smith is "the young player they're most willing to part with." The 20-year-old Smith, who was sidelined for most of his rookie season by a broken foot and complications stemming from a severe allergic reaction, is averaging 13.5 points (50.7 percent from the floor, 31.4 percent from three-point range), 3.6 rebounds and 2.2 assists per game in the G League.
With Iguodala's $17.4 million salary, it would appear very difficult for the Sixers to make an equitable trade with the Grizzlies. For instance, though the salaries would work, the Sixers presumably wouldn't offer Josh Richardson and a couple of bench pieces to Memphis.
In the case of Covington, he would help fulfill Brett Brown's desire for a higher volume of three-point attempts — he's taken 6.6 per game over the past six seasons and made 35.9 percent — and he'd be a disruptive defender. Covington seemed to be a polarizing figure among the Sixers' fanbase, but he's clearly a player with well-defined skills that could help a contending team.
He's one of many names worth monitoring as we inch toward Feb. 6. 


Click here to download the MyTeams App by NBC Sports! Receive comprehensive coverage of your teams and stream the Flyers, Sixers and Phillies games easily on your device.
More on the Sixers