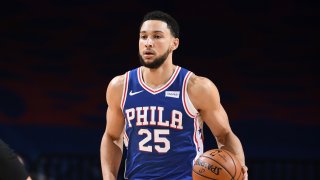 CAMDEN, N.J. — Ben Simmons is back in the Philadelphia area and on a path to be cleared for action.
Beyond that, Sixers head coach Doc Rivers chose not to reveal much Wednesday after his team's practice.
According to Rivers, he met with Simmons "several times" Tuesday. 
"He did all the stuff — all the physicals and testing and everything else he needed to do," Rivers said. "He'll come back in this evening and work out with the guys — well, individual workouts — until he clears (COVID-19) protocol. And we'll go from there."
Rivers said his conversations with Simmons were "good," although his response when asked whether Simmons had arrived with the plan to play was curious. 
"I'm assuming he's going to play," he said, "but who knows, right? I don't know. I can't get in anyone's head."
Whatever his rationale for not giving an unequivocal answer to that question, Rivers indicated Simmons could suit up as soon as the Sixers' preseason finale Friday night in Detroit. 
"We're not ruling that out at all," he said. "Whether we play him or not, that's going to depend on what we see this week. He's coming from behind. … Having said that, to rush to put him on the floor, that's a whole other subject. That will go from our eyes. What we see this week is how we'll determine everything moving forward."
Simmons was one of five Sixers who didn't participate in Wednesday's practice. Shake Milton, Tobias Harris, Matisse Thybulle and Grant Riller were out with injuries. Thybulle, who's been sidelined by right shoulder soreness, is the only one of that group who might be cleared to practice Thursday. 
With all due respect to Thybulle, his return would not be as significant as Simmons'. Danny Green, who said he hasn't spoken with the three-time All-Star, expects Simmons' typical approach and standard of play.
" … We just want everybody to come here, show up and do their part, do their jobs," Green said. "I'm not asking him to do anything differently than he normally does. Just show up to work and do what you normally do, because when he does what he normally does, we're very effective. … We were the No. 1 team in the East. We're not asking him to shoot jump shots. Just come in, be a pro, do your job. 
"That's what we expect of him and if he apologizes, cool. But you guys work with people every day. You don't expect apologies from people not showing up because of family issues or sickness or whatever it may be. Just come in and do your jobs."
Seth Curry also indicated Simmons won't need to provide a detailed explanation for his holdout.
"I already know the deal," Curry said. "I know his reasoning and what he wants to happen. I'll be able to see from when he steps on the floor where his head is at. I don't feel like he needs to explain anything to me. 
"He's a grown man and he can do whatever he wants. When we step on that floor, the goal should be to win. We'll see what happens."