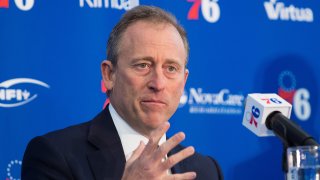 Sixers managing partner Josh Harris and co-managing partner David Blitzer hold identical titles with the NHL's New Jersey Devils. Now, the two are reportedly interested in purchasing a third professional sports team.
According to a report from Scott Soshnick in Variety, Harris and Blitzer are "among the suitors" for the New York Mets. "Talks are still in the early stages," Soshnick reports, with Harris and Blitzer not the only party interested. 
Harris' purchase of the Sixers has been a fruitful one. A group led by Harris, the co-founder of Apollo Global Management, bought the team in 2011 for approximately $287 million. A Forbes valuation in February placed the Sixers' current value at $2 billion. 
The Mets might present a similar opportunity for growth. Soshnick writes that the franchise loses at least $50 million per year, not accounting for losses related to the delay of this MLB season because of the coronavirus pandemic. The team performed better than expected on the field last year, finishing 86-76, and has young, marketable talent in Pete Alonso, Michael Conforto and Noah Syndergaard. 
The Sixers have committed to long-term contracts for Ben Simmons, Joel Embiid, Tobias Harris and Al Horford, which leaves them projected to pay the luxury tax for the upcoming season. 
It's unclear how steep the tax will be, but it will likely be higher than originally anticipated because of revenue losses related to the coronavirus. The league's owners and the National Basketball Players Association have approved a 22-team plan to resume the season at Walt Disney World in Orlando, Florida, without fans in attendance. 
In March, Harris received strong negative feedback about planned employee salary reductions. He reserved course on that decision and apologized. 
Subscribe and rate Sixers Talk: Apple Podcasts | Google Play | Spotify | Stitcher | Art19 | YouTube


Click here to download the MyTeams App by NBC Sports! Receive comprehensive coverage of your teams and stream the Flyers, Sixers and Phillies games easily on your device.
More on the Sixers