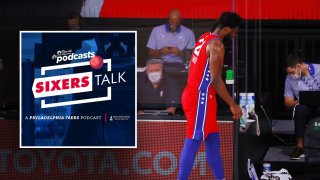 On this edition of the Sixers Talk podcast, we discuss the health of Joel Embiid and Ben Simmons, whether the All-Star duo should stay together and much more.
(0:32) — Embiid suffers an injury and Lillard drops 51.
(9:16) — Don't expect a deep playoff run.
(14:30) — More pressure on Shake Milton or Josh Richardson going forward?
(21:41) — Will Brett Brown get a pass if the Sixers don't succeed?
(34:39) — Here we go with the trading Embiid or Simmons talk again.
Subscribe and rate Sixers Talk: 
Apple Podcasts / Google Play / Spotify | Stitcher | Art19 | YouTube


Click here to download the MyTeams App by NBC Sports! Receive comprehensive coverage of your teams and stream the Flyers, Sixers and Phillies games easily on your device.
More on the Sixers