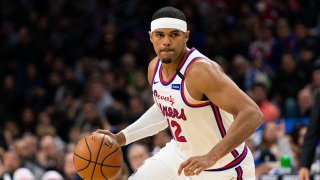 Tobias Harris is responding to the coronavirus pandemic with a multifaceted relief effort. 
According to a press release, Harris will donate to Habitat for Humanity of Philadelphia to provide three months of mortgage payment assistance to 12 families experiencing financial hardship in North and West Philadelphia. He also gave lunch on Tuesday to 250 health care workers at Temple University Hospital in a partnership with Chick-Fil-A. The final component of Harris' charitable contributions is a donation of 20,000 children's books for home libraries in Philadelphia through the Read by 4th program. It's a fitting donation for Harris, a proud and voracious reader.
(Photos courtesy of Philadelphia 76ers)
Additionally, Harris is one of several Sixers who have joined the Philly Pledge, a movement launched by Ben Simmons that promotes donations to local non-profit organizations dedicated to coronavirus relief. 
"We're experiencing one of the biggest crises in the history of humankind," Harris said in the press release. "Being able to provide kindness to people putting their lives at risk in hospitals and supporting Philadelphia families in dire need of help is an important responsibility for me."
Sixers players have taken a variety of creative approaches toward charitable work during the coronavirus pandemic. Harris, Joel Embiid, Mike Scott, Al Horford, Shake Milton and Josh Richardson have all publicly made donations since the NBA season was suspended on March 11. 
Subscribe and rate Sixers Talk: Apple Podcasts | Google Play | Spotify | Stitcher | Art19 | YouTube
Click here to download the MyTeams App by NBC Sports! Receive comprehensive coverage of your teams and stream the Flyers, Sixers and Phillies games easily on your device.
More on the Sixers