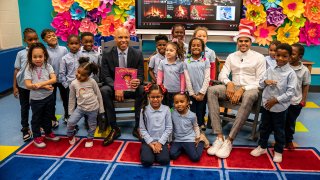 On Monday morning at 9:30, after playing five games in seven nights, and driving back late Sunday night after a rough loss in Brooklyn, Tobias Harris arrived timely and smiling at Bethune Elementary School in North Philadelphia.
His first stop was Room 101, where he was there to show his personal appreciation for 15 male educators.
"As you all know there is a huge shortage of black male teachers around the country, so first and foremost I want to applaud all of you guys for being able to be here and giving back to the kids, especially when most of them look up to you as father figures, and someone as influence in their life," Harris said standing in the small room, and personally thanking each teacher.
"The numbers don't lie that show that a young black male that has an African American teacher is 40 percent less likely to drop out come high school," Harris said after gifting each teacher a $100 gift card for school supplies, as well as tickets to a game. "I truly believe if you invest in the education, in the schools, you invest in the community, we'll see more young leaders come up and children come up with an education base and be able to fulfill their dreams in whatever they want to do."
It's a cause close to Harris' heart, as he recently donated $100,000 to the Fund for the School District of Philadelphia, which will supports early literacy efforts and teacher retention and recruitment. 
"I just wanted to be here to let them know that they are appreciated," Harris said, who also launched his Top Teachers Initiative in October. "A teacher is somebody that in my eyes is a role model, is a hero for a lot of these kids."
Harris then made his way to the school's small library, where he had 15 kindergarteners waiting for him.
A quote from Tobias Harris was also hanging on the wall.
"Education is the anchor that opens up the door to success."
Donning the red and white top hat from Dr. Seuss' Cat in the Hat, Harris sat back in a rocking chair, and introduced himself to the kids.
"My name is Tobias Harris. Are you ready? Today I am going to be reading Pete The Cat: I Love My White Shoes!"
In between reading the children's book about a cat whose white shoes get mucked up by various substances — like blueberries and strawberries and singing songs about Pete's shoes changing colors ("I love my red shoes," "I love my blue shoes!"). Harris easily captivated each kid's attention.
The smiles in the room were big enough to make your cheeks hurt.
After that, Harris visited with a group of older students where they laughed and talked about what they wanted for Christmas, before Harris surprised them all with tickets to Philadelphia's Christmas Day game.
Following that, Harris made his way to the principal's office, taking over for Principal Aliya Catanch-Bradley.
A nervous and excited Principal Harris spoke over the loud speaker to all the students and teachers at school, surprising every teacher with gift cards to purchase more school supplies for their classrooms.
This could be getting me ready for life after basketball," Harris, who aspires to pursue a career in education after basketball, said. "It's a cool feeling, being here in this type of environment, being in an area that's impacting kids is something I definitely want to do when I'm done.
Although that was all that was officially on the docket for the morning, Harris' day didn't end there. A teacher had popped in earlier to introduce himself and ask Harris if he would stop by his classroom.
So, Harris then popped into Room 212, sat in a seat and started doing math problems with the kids, and answering the teacher's questions.
And then, he popped into another class, where they were discussing the history of African-American heritage. The class also gifted him the book they were reading, "Schomburg: The Man Who Built A Library."
"What I want (Harris' visit) to translate into, is that our children matter, and that they just don't matter to those of us inside the building, but they matter to a broader community," Principal Aliyah said, after explaining that Bethune is a Trauma Informed elementary school.
We are in the 25th police precinct, and here we have a significant number of homicides for the city, concentrated in this area, so many of my scholars come to school with gun violence, loss of siblings and family members that have a high incarceration rate here, and we are also in an area where there is deep poverty. … Usually when you see this area on the news, it's a homicide or something bad, so today, we get to have one of the 76ers come, and really bring with him such great joy, that's not associated with tragedy and travesty happening. It's like, I took time out of my day to see and spend some time with this school, because you matter.
Bethune Elementary, focused on removing barriers for these young kids, has also been chosen as one of the schools for Tobias' Lit Labs Initiative, which provides literacy resources for students and teachers.
"Today we removed a barrier for some of what might have been hopelessness for the holidays," Principal Aliyah said. "Tobias is blessing families and shedding a light on good things that are happening in this part of the city."
Click here to download the MyTeams App by NBC Sports! Receive comprehensive coverage of your teams and stream the Flyers, Sixers and Phillies games easily on your device.
More on the Sixers