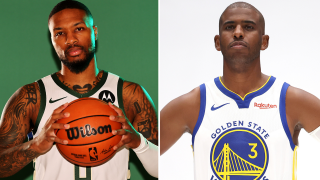 Jimmy Butler is emo, Damian Lillard is sporting new colors and James Harden is not present. The new NBA season must be getting closer.
With the calendar now in October, the push for the 2023-24 NBA campaign is now in full with the offseason and FIBA World Cup in the rear view.
But before the regular season starts later this month, Media Day and preseason are up first.
Here's what to know about the start of the 2023-24 NBA regular season:
When is NBA Media Day 2023?
The Dallas Mavericks and Minnesota Timberwolves did Media Day duties last week before travelling to Abu Dhabi for their preseason game. All other NBA teams did duties on Monday, Oct. 2.
When does NBA preseason start 2023?
Preseason action commences on Thursday, Oct. 5 with the Mavericks and Timberwolves and runs until Friday, Oct. 20.
When does the 2023-24 NBA season start?
Opening night of the new campaign is set for Tuesday, Oct. 24.
Who will play on NBA opening night 2023?
There are two games slated for Tuesday, Oct. 24, and both feature star-studded Western Conference affairs.
The Los Angeles Lakers will head to Denver to play the defending champion Nuggets to kick things off with the Phoenix Suns at the Golden State Warriors tipping off after.