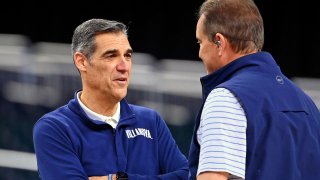 Villanova men's basketball head coach Jay Wright is stepping down from his job with the school after an illustrious two-decade career that included two national championships, four Final Four appearances, and two Naismith Coach of the Year awards.
Wright released a statement Wednesday night about the decision:
The Athletic's Shams Charania initially reported Wednesday evening that Wright was "seriously contemplating" retirement and would meet with his family before making the decision.
But shortly afterwards, Charania reported that Wright was "likely" retiring and then pointed to Fordham University coach Kyle Neptune as Wright's successor:
Neptune began his college coaching career under Wright at Villanova in 2008, spending 2008 to 2010 with Villanova before departing for Niagara for an assistant job. He returned to Villanova in 2013 and coached under Wright as an assistant from 2013 to 2021.
Wright, who turned 60 this past December, had been head coach of Villanova since he took over in 2001. If he does indeed retire, his final record with the Wildcats is 520-197. From 2004 to 2022 the Wildcats missed the NCAA tournament just once (2011-12) under Wright.
Wright and the Wildcats reached the Final Four this past season, falling to eventual national champion Kansas.
Wright was regularly connected to the Sixers as a potential head coaching option during his time with Villanova, including in 2020 after the Sixers fired Brett Brown. Wright came out and explicitly denied any interest in the Sixers job at the time.
ESPN's Adrian Wojnarowski reported that Wright intends to retire from all coaching, not just from Villanova:
Turner Sports' Andy Katz is reporting that Wright is expected to "rest and likely do television" during his time off:
This is a developing story...