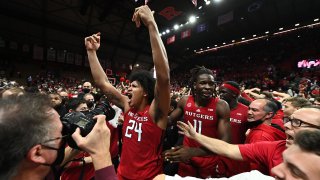 There was pandemonium in Piscataway on Thursday night.
With Rutgers holding a 67-66 lead over No. 1 Purdue in the final seconds of the Big Ten matchup, Boilermakers big man Trevion Williams banked in a go-ahead layup.
Out of timeouts and with 3.4 seconds on the clock, Scarlet Knights forward Ron Harper Jr. received the inbounds pass and was able to advance the ball just beyond half-court before throwing up a prayer.
And his prayer was answered, as the ball swished through the net and sent the Jersey Mike's Arena crowd into a frenzy.
The 70-68 triumph gave Rutgers, which was without star guard Geo Baker (flu), its first-ever victory over a No. 1-ranked opponent. Meanwhile, previously-unbeaten Purdue was playing its first game in program history ranked No. 1.
"Once I put that ball up and it went in, I was jumping up and down like a little kid. It was one of the greatest moments," Harper Jr. told NCAA.com's Andy Katz. "This team needed that win and to be able to be there for my guys and hit that shot is just an unbelievable feeling.
"Watching the fans storm the court, it felt like there were thousands of people on the court within 10 seconds. It was just so great."
The senior said he was "so certain" the shot was going in after he released it.
"It looked so good, felt good and I hit a half-court shot today in shootaround," he said. "So it was a full-circle moment."
Harper Jr.'s game-winner capped a wild finish in Piscataway, N.J.
After the Boilermakers took a 63-55 lead, the Scarlet Knights reeled off a 10-3 run to make it a one-point game with one minute left. The two teams then traded turnovers for three possessions before Harper Jr. drilled his first of two go-ahead shots in the final 14 seconds.
Harper Jr. finished the night with 30 points and 10 rebounds, shooting 10-for-15 from the field and 5-for-7 from 3-point range to help his team secure a badly-needed victory.
On the heels of its first trip to the NCAA Tournament since 1991, Rutgers has gotten off to an ugly start to the 2021-22 campaign. The Scarlet Knights entered Thursday's contest at 4-4 with three of their losses coming to DePaul, UMass and Lafayette.
But Harper Jr. may have saved Rutgers' season with his half-court heave.