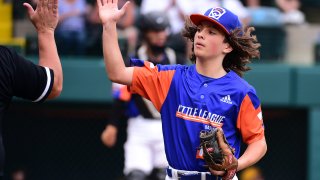 Michigan and Ohio met for the Little League World Series title on Sunday afternoon in Williamsport, Pa. Taylor North from Taylor, Mi., came out on top, defeating the West Side Little League squad from Hamilton, Ohio, 5-2.
 It was a showdown between the two teams who have been old rivals since 2016. This is Michigan's first Little League World Series championship since 1959. Taylor North joins the 1959 team from Hamtramck, which, led by Art "Pinky" Deras, was considered one of the greatest Little League teams of all-time.
Jackson Surma hit his fifth double of the LLWS during the game and also added a two-run hit in the bottom of the fifth. He knocked in four of Michigan's five runs on the day.
Surma led the way with four RBIs, including a two-run single to set the tone in the first, and another in the fifth, which sealed the deal.
Cameron Thorning played a major role for Michigan leading up to the championship and it continued in today's rally. Thorning finished with three home runs and nine RBIs.