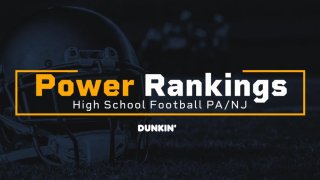 Video made the rounds on social media this weekend: Roman Catholic players storming the field in celebration, some with that wide-eyed look that, at first glance, seemed more shocked than happy.
It was as if the Cahillites had stunned themselves. 
When the video surfaced, most who stumbled across it probably felt the same way. It was jarring at first glance. This wasn't supposed to happen.
But here we are: Roman Catholic upset La Salle, 27-20, on Saturday afternoon thanks largely to a magnificent performance by receiver Tysheer Denmark, who had more than 200 yards receiving and four touchdowns.
One week after recording a historic victory over St. Joseph's Prep, La Salle fell in devastating fashion to a Roman Catholic team that, granted, is probably more talented than a lot of people realized. The Cahillites entered the game with a 2-4 record but had hung tough with several talented opponents this season.
Still, no one saw this coming.
But it's telling of where we're at in the season: Some teams in these rankings are probably already thinking about the playoffs. Their postseason tickets are punched. Their high seeds are locked in. But in other parts of the state, dog fights are ensuing for those final playoff spots. Roman Catholic likely isn't the last unranked team to make noise before the postseason.
1. St. Joseph's Prep 3-2 (2) 
No team would want to be in Middletown's shoes this week: playing St. Joe's Prep after the week after the Hawks suffered a tough loss. As expected, Prep took care of business in a 24-6 win over a strong out-of-state team, which helped Prep regain the top spot in the rankings after being displaced last week by La Salle. Linebacker Josiah Trotter is averaging almost six tackles per game for the Hawks, and defensive end James Heard is averaging more than a sack per game for a defense that continues to look strong against a national caliber schedule. 
2. La Salle 6-1 (1) 
This was nothing if not a major letdown for the Explorers. A week after one of the biggest victories in recent program history, La Salle fell to Philadelphia Catholic League rival Roman Catholic, 27-20. The Cahillites' Tysheer Denmark punched in the winning touchdown on a 1-yard run with 2 minutes left to seal the upset. On the bright side for the Explorers: The Philadelphia Catholic League Red Division title could still be within reach. But an Oct. 29 meeting with Archbishop Wood is now a must win. 
3. Imhotep Charter 5-1 (3) 
Imhotep Charter blanked Northeast, 14-0, in a big Philadelphia Public League showdown on Saturday afternoon. The game continued a dominant season for a Panthers defense that is allowing an average of less than seven points per game with only two games left in the regular season.  
4. North Penn 7-0 (4) 
Another week, another blowout win for North Penn. The Knights knocked off host Harry S. Truman by a score of 48-20. With two games left in the regular season, North Penn looks like a good bet to close out the regular season undefeated for the first time since 2018-'19 
5. Archbishop Wood 5-2 (6)
The Vikings topped Father Judge, 40-20, on Friday night in a final dress rehearsal before ending its regular season with back-to-back games with against Catholic League rivals St. Joseph's Prep and La Salle. Quarterback Mekhi Wharton completed 8 of 9 passes for 170 yards and four touchdowns in the win. The 6-foot-5 sophomore quarterback is having a big season and clearly he has even more potential to reach. It should be interesting to see his growth continue in the coming weeks.
6. Malvern Prep 3-2 (5)  
Malvern Prep fought hard on Friday night in a 31-17 loss to undefeated Archbishop Spalding (M.d.). Senior quarterback Jack Capaldi, who's been a leader for the Friars all year, helped keep his team in the game throughout. He punched the ball in on fourth and goal from the 1 yard line to tie the score at 17-17 in the fourth quarter before Archbishop Spalding pulled away.
7. Garnet Valley 7-0 (7)
Garnet Valley blanked Radnor on Friday night in a 41-0 blowout. Since allowing 34 points in the first half last week against Ridley, Garnet Valley has yielded just three points over its past six quarters. The Jaguars offense also extended its current trend: the unit hasn't put up less than 41 points this season.  
8. Quakertown 7-0 (8)
Quakertown's perfect regular season continued Friday night as it eased past Neshaminy, 35-10. The Panthers rushed for more than 200 yards in the win. Tyler Woodman carried the ball 20 times for 160 yards and two touchdowns. John Eatherton notched 14 carries for 129 yards. 
9. Neumann-Goretti 5-1 (9) 
The Saints brushed aside winless Landsdale Catholic, 42-7, on Friday night, continuing a string of impressive wins since dropping its second game of the season to Archbishop Wood. They are running away with the Catholic League Blue Division. But that might be the least of what Neumann-Goretti can achieve this season. The Saints stand as one of the state's top AAA teams with playoffs on the horizon. 
10. Coatesville 6-1 (10) 
In one of the more heroic plays in Southeastern, Pa., this season, Harrison Susi found James Taylor in the corner of the endzone on a 19-yard throw with 13 seconds left to give Coatesville a 31-28 win over Ches-Mont National Division rival Downingtown West on Friday night. Coatesville was actually trailing by 10 points in the fourth quarter of this game before Susi brought the game to within one touchdown on a toss to Tommy Ortega to set up the walk-off win.
For any comments or questions about these rankings – or if you have an area high school sports story you think needs to be told, contact Chris Melchiorre at CMelchiorre11@yahoo.com.