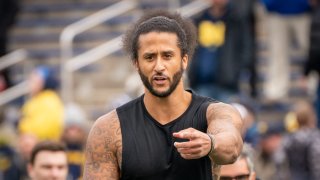 The New York Jets have an Aaron Rodgers-sized hole at the quarterback spot, and former No. 2 overall pick Zach Wilson seems incapable of filling it.
It's led the Jets to officially sign veteran Trevor Siemian to their practice squad as competition to keep their playoff and Super Bowl aspirations alive, with names like Tom Brady proposed but hopes quickly dashed.
But another option who got some mentions was Colin Kaepernick, who most recently worked out for the Las Vegas Raiders in May of 2022 following his last game with the San Francisco 49ers in the 2016 season. However, he never landed a role.
Then, artist J. Cole on Tuesday took to Instagram to share a letter Kaepernick wrote to Jets GM Joe Douglas shortly after Rodgers' Achilles injury.
J. Cole wrote in his caption that Kaepernick initially was reluctant to let the letter be shared before eventually being convinced to agree. Kaepernick did not mention taking over Wilson's job as starter, rather saying he'd be "honored and extremely grateful" to lead the practice squad.
"Worst case scenario, you see what I have to offer and you're not that impressed. Best case scenario, you realize you have a real weapon at your disposal in the event you ever need to use it," Kaepernick wrote in the letter. "In either of these scenarios, I would be committed to getting your defense ready week in and week out, all season long, and I would wear that responsibility like a badge of honor."
Kaepernick also attached four references to vouch for his character, work ethic and ability, which included Jim Harbaugh (former 49ers head coach now with Michigan), Chip Kelly (former 49ers head coach now with UCLA), John Harbaugh (Baltimore Ravens head coach) and Mark Davis (Las Vegas Raiders owner).
It remains to be seen what will come of Kaepernick's letter given Siemian's signing earlier Tuesday, but he's still training for an opportunity.