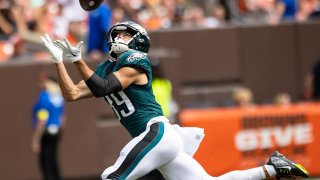 Eagles wide receiver Devon Allen ran the 4th-fastest hurdles time in the world this year Saturday afternoon.
Allen, returning to the USATF New York City Grand Prix at Ichan Stadium on Randall's Island, ran 13.04, the 4th-fastest time of his life, and placed second to Daniel Roberts, a two-time U.S. champion. Roberts ran 13.01, just off his PR of 13.00 from 2019.
Allen, who ran 12.84 at the same meet last year – No. 3 in world history – was two meters behind Roberts coming off the fourth hurdle but began closing quickly and nearly pulled even with Roberts at the finish before falling about six inches short.
"It's going well. Balancing both is difficult, but I'm having a lot of fun, as long as I can stay healthy," Allen said after the race on the NBC broadcast. "Get to compete against these guys in high-quality competition. 13.01 and 13.04 is nothing to scoff at."
The race was run with a legal 1.6 meters-per-second tailwind.
The 28-year-old Allen spent last year on the Eagles' practice squad and remains on the 90-man roster with training camp about five weeks away. He hadn't played organized football since the 2016 season at Oregon.
Allen has run faster in each race he's contested this spring – 13.46 at the Penn Relays in April; 13.25 in Rabat, Morocco, in May; then 13.19 in Florence, Italy, and 13.12 in Hengelo, Netherlands, earlier this month.
His 13.04 is 4th in the world this year behind Cordell Tinch, who ran 12.96 Friday night in Fayetteville; two-time world champion Grant Holloway, who ran 12.98 in Paris; and Roberts' 13.01 Saturday. Shunsuke Izumiya of Japan also ran 13.04 in Osaka earlier this month.
Allen's only faster lifetime races are the 12.84 in New York last June, a 12.99 in Zagreb, Croatia, in 2021, and a 13.03 to win the 2016 U.S. Olympic Trials on his college track in Eugene.
He ran faster Saturday in New York than he did in either the 2016 Olympic finals (13.31) or 2021 Olympic finals (13.14).
"Good race to sharpen us up," Allen said. "This is a good one to have two weeks before nationals."
Allen plans to return to Eugene for the U.S. Championships July 6-9 at Hayward Field on the Oregon campus.
But he could face a conflict if he finishes in the top three and makes the U.S. team. The World Championships are scheduled for Aug. 19-27 in Budapest with the three rounds of hurdles scheduled for Aug. 20 and 21.
The Eagles will be in the thick of the preseason at that point, and while Allen could conceivably leave for Budapest after the Aug. 17 preseason game against the Browns and return in time for the Aug. 24 preseason game against the Colts, he would miss significant practice time and make an already challenging battle for a roster spot even tougher.
There's also the issue of track fitness vs. football fitness. Could he spend three weeks in training camp and still be at his best to face the top hurdlers in the world in Hungary at the same time?
Last year, the World Championships were in mid-July in Eugene – that's when he was DQ'd for a disputed false start in the final – and he didn't miss any time in training camp.
Allen spoke about that in an interview earlier this week with TV station KPIC of Eugene.
"Yeah, I still don't have a plan of what I'm gonna do with Worlds being during training camp," he said. "It'd be nice to compete at Worlds and also it would be nice to be at training camp so I can make the 53-man roster.
"So obviously it's gonna be a little bit of a decision, but I'm not going to worry about that … until I make the world championship team."
Allen is one of only four U.S. hurdlers to run under 13.09 this year along with Tinch, Holloway and Roberts.