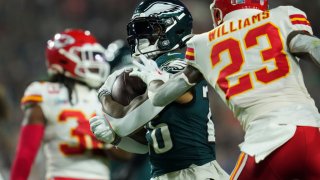 During the regular season, Miles Sanders was one of the best running backs in the NFL.
He finished his fourth NFL season fifth with 1,269 rushing yards, sixth with 4.9 yards per carry and seventh with 11 touchdowns, made his first Pro Bowl and most importantly stayed healthy.
Then the Super Bowl came along and he was an afterthought.
Sanders got just seven carries in Super Bowl LVII in Glendale and netted just 16 yards, with a long gain of six yards.
At one point, he left the field briefly with what appeared to be a hand injury, but he returned after that. He fumbled out of bounds on the first play of the game and had only one more carry until the middle of the third quarter.
It was all very strange and mysterious, and neither Sanders nor Nick Sirianni had much to say about Sanders' usage after the game. There were plenty of other more pressing matters.
Kenny Gainwell had been getting a bigger and bigger role late in the regular season and in the postseason, and he also finished with seven carries (for 20 yards) along with four receptions. But Gainwell did get more snaps than Sanders (38 to 26) after Sanders got twice as many as Gainwell during the regular season (673 to 331).
Sanders was effective in the first two playoff games last year, netting 132 yards on 28 carries for 4.7 yards a pop. But Gainwell was also productive against the Giants and 49ers with 26-for-160 in those two games for 6.2 yards a carry. And his comfort level in the receiving game may have played a part in his increased usage.
Despite the weird ending to his season, Sanders was very vocal about wanting to return to the Eagles, but they were never serious about contract talks, and on the second day of free agency, Sanders signed a four-year, $25.4 million contract with the Panthers.
End of story.
Maybe not.
Sanders, four months after the Super Bowl, finally expressed his frustration with the way his Eagles career ended in an interview with an Associated Press writer in Charlotte, N.C.
Asked if he was disappointed in how the Eagles used him in the Super Bowl, Sanders said:
"Last game of the season? For all of the marbles? Everybody can answer that question. If they put themselves in my shoes, would they be happy? I don't want to make headlines. If it does, I don't care."
Despite playing only four years here, Sanders ranks eighth in franchise history with 3,708 rushing yards.
He's one of only five players in NFL history to begin his career with four consecutive seasons with 750 rushing yards and a 4.5 average. The others are Nick Chubb and Hall of Famers Terrell Davis, Gale Sayers and Jim Brown. That's elite company.
With Sanders now in Carolina, the Eagles are moving forward with Gainwell, offseason acquisitions Rashaad Penny and D'Andre Swift and veteran Boston Scott.
Why does Sanders think the Eagles had no interest in bringing him back?
"I can get into that another day, maybe," Sanders said. "Maybe you should ask them why I'm moving here."