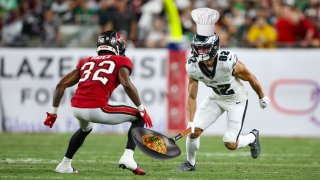 Each week during the 2023 season we're going through the Eagles media guide to find an interesting nugget.
The Eagles' PR interns do a great job filling out these little oddities in the media guide and they serve as a good way to meet the players behind the helmets.
This week, we chatted with practice squad receiver and Olympic hurdler Devon Allen, who made his NFL debut on Monday night. On his bucket list? Become a classically trained chef.
Me: One day you'd like to be a classically trained chef?
Allen: Yes. That is 100 percent true.
Me: Do you like to cook now?
Allen: I do like to cook. I've always liked to cook. But probably since 2020, COVID …
Britain Covey: I can confirm that.
Allen: … 2020 COVID, I've been cooking at least once a day for a few years. Really interested in all types of cuisines but using specific tools like fire ovens and a wok burner and stuff like that.
Me: What got you into it? Was it like boredom during COVID?
Allen: I was always really into food, for one. Me specifically, living in Philly, it's a great spot for me because there's so much opportunity for food and good food all over the city and different kinds. That was the biggest motivation was I like all the different stuff. And, secondly, I enjoy the time it takes. It's kind of like therapy for me. Kind of like relaxing. Prepping and cutting and chopping and cooking. Serving people. If my family is in town or my girlfriend is in town or some of the guys are coming over for food. I like putting something cool together and delicious.
Me: Have you had the guys over for a meal?
Allen: I haven't. I've had Covey over. I've had a few. The guys that have girlfriends who are friends we had over. And my girlfriend got me a pizza oven for my birthday last year so I learned how to make pizza dough from scratch, learned how to make pizza sauce from scratch. So we did pizzas in the oven. So that's cool. And I'm really into Asian cuisine so I use a wok for a lot of things. Stir-fries and fried rice and Pad Thai and stuff.
Me: Do you have a favorite thing to cook?
Allen: My favorite thing to cook is probably fried rice. It's one of my favorite meals in general. It's really interesting in terms of the process, using day-old rice and the flavors you put into it and how different you can make it depending on what ingredients you want to use. You can put anything really in fried rice so it's pretty cool.
Me: That's pretty cool. Do you think it really is something you'll explore one day?
Allen: I think I plan on doing some type of training, whether that's culinary school or an apprenticeship. Something like that. I'm not sure. But I know the NFL pays for secondary education so hopefully I can get the NFL to pay for it.
Me: Yeah, that's not a bad idea. Some people say they like country-style cooking where they have basic simple ingredients. Do you like that or do you like intricate recipes?
Allen: I like intricate recipes. I like doing a lot of things from scratch. So if I say I'm making a stir fry, I'm going to make the stir fry sauce with all the ingredients, soy sauce, fish sauce, vinegar, salt and pepper, chili, chili paste, chili oil. Put all the stuff together to make the consistency and the sauce that I want as opposed to like going to a store and buying chili sauce or sweet chili sauce or stir fry sauce, I'm going to try to make it from scratch. That whole process, I think the biggest thing for me, is that it's therapeutic. Doing it from scratch and prepping everything. The whole wok thing for me is getting all the ingredients cut, chopped and ready to go and then starting to throw them in there. The end result, you've got the smoke in the house, my fire alarm is going off.
Me: Yeah, I get that. I have that at my house too. Do you think eventually you want to be a chef or do you think you want to have a restaurant?
Allen: I think eventually I would go, I would lean more towards being a chef just because the people I know that are in the restaurant business or own a restaurant say it's pretty hard work. Not that I'm afraid of hard work but sometimes it's better to run the business than own the business. Maybe in the future I become a celebrity chef or something. During COVID I was watching all the cooking shows like Chopped and Master Chef and all this stuff and watching all of Gordon Ramsey's cooking videos.
Me: I always thought that would be fun to have a Chopped night, where you get people together and compete.
Allen: There's actually some guys on the team that can throw it together. I know a lot of the guys have families too so that's kind of an advantage. They have to cook for their kids.
Me: Gotcha, man. Thank you.
Allen: Yeah, thank you.
Subscribe to Eagle Eye anywhere you get your podcasts:
Apple Podcasts | YouTube Music | Spotify | Stitcher | Art19 | RSS | Watch on YouTube