Each week during the 2023 season, we're going through the Eagles media guide to find an interesting nugget.
The Eagles' PR interns do a great job filling out these little oddities in the media guide and they serve as a good way to meet the players behind the helmets.
This week, we chatted with cornerback Josh Jobe, who says he wanted to be a model when he was younger. On Monday night, Jobe got his chance to be a model at the Fashion Touchdown event to support Big Brothers Big Sisters Independence.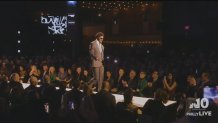 Me: How did it go?
Jobe: I was kind of nervous the first time. But as soon as I saw the rest of my teammates, (Darius) Slay and JB (James Bradberry) was doing it. I was like, alright, let's keep it natural. So I just kept it natural and it turned out well.
Me: So you think it went well?
Jobe: Yeah, it went well. It was fun.
Me: What was the hardest part of doing it?
Jobe: OK, you know, you got everybody hovering you and you got one straight lane. You gotta look around. So I had on shades, which I was comfortable with.
Me: That make it easier?
Jobe: That made it easier for me. Because if I didn't have shades on, like, I would have been so … I don't even want to do this (laughter).
Me: Who do you think did the best job?
Jobe: Uhhh. I think everybody did a good job. Everybody did a good job. The funniest was Slay, though.
Me: Of course.
Jobe: He's the funniest guy ever. You gotta love him.
Me: Why do you think modeling was something you thought was cool as a younger kid?
Jobe: I felt like people used to say I have a nice smile and everything and I have the body structure for it. So felt like I should try to be a model and just do it. Plus, I want to work with all the designer clothes, so I want to present those clothes as well.
Me: Do you consider yourself a fashion guy?
Jobe: A little bit here and there.
Me: A little bit? Who do you think are your most fashionable teammates?
Jobe: Fashion? Hmm. Fashion, fashion. JB (James Bradberry).
Me: Yeah, he was one I was thinking. How about DeVonta? I know he gets a lot of credit.
Jobe: Smitty, Jalen (Hurts). I mean, a couple guys.
Me: You think you'll ever get a chance to do it (model) again?
Jobe: I hope so. I wish.
Me: Did you like it?
Jobe: Yeah, I loved it. I loved it.
Me: Was the even in general just fun to be a part of.
Jobe: Yeah, just meet new people. I'm not like a social guy, so I try to be out there and social with people.
Me: Did it push you out of the comfort zone a little bit?
Jobe: A little bit, yeah. Once I get comfortable with them, yeah. It gets better.
Me: Thanks, man. I appreciate it.
Jobe: Yeah, of course.
Subscribe to Eagle Eye anywhere you get your podcasts:
Apple Podcasts | YouTube Music | Spotify | Stitcher | Art19 | RSS | Watch on YouTube