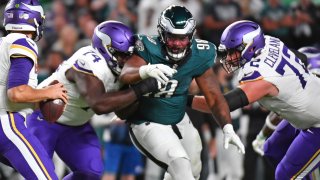 It was perfect timing.
Just as Jalen Carter was asked how he's been able to have so many pressures in his first two NFL games, his longtime buddy Jordan Davis walked into the Eagles' locker room.
"That guy right there," said Carter, looking in Davis's direction. "If I'm in the game with him, they're looking at him. He's probably going to get a slide and I'm going to get a 1-on-1. And we go do our thing out there."
Through two weeks in his NFL career, Carter has been just as disruptive as the Eagles expected when they moved up to draft him with the No. 9 overall pick this spring. He already has 11 total pressures, the most of any interior defensive tackle in the NFL through two weeks.
Carter, 22, also has a sack, a QB hit and couple tackles for loss.
He and Davis, who was picked by the Eagles in the first round last year, played together at Georgia in 2020 and 2021. They have a tight bond that has already been on display on and off the field early in Carter's rookie season.
That on-field relationship has translated smoothly from college to the pros.
"Oh yeah," Carter said. "Me and JD had the strongest connection of any of the D-linemen we had at Georgia. I love this guy. I know when me and him are on the field, there's going to be a big impact."
Carter is just 22 and Davis is just 23. So the Eagles are hoping these two become foundational pieces for the defense for the next several years. And they're off to a really good start together.
While Davis is going to see a lot of double teams as a 6-foot-6, 340-pound nose tackle, Carter is starting to garner some attention too. He's been noticing moments where the slide protection goes his way.
When that happens, Carter has one big goal in mind.
"For me not to get knocked out my gap and pushed all the way to the outside or something like that," he said. "Try to stay in my gap and if the quarterback gets pressured from the other D-ends or the D-tackle in their 1-on-1s to get a sack off of that."
The thing that makes the Eagles so difficult to block is their depth on the defensive line. The top four guys in the rotation at DT are Fletcher Cox, Davis, Carter and Milton Williams. And the top guys on the edge are Haason Reddick, Josh Sweat, Brandon Graham, Derek Barnett and Nolan Smith.
You just can't double everybody.
So at least early in his career, Carter is going to get an opportunity to win some 1-on-1s and he just has to take advantage of them.
After a strong couple of games to start his career, Carter will get a chance to have a special moment on Monday night against the Bucs. Carter grew up in Apopka, Florida, about an hour and a half from Tampa but he's never played at Raymond James Stadium. He expects to have a ton of family members in attendance for this game.
How many?
"I don't know but I know my mom, she gonna shock me," Carter said. "There might be a whole section right there, just my family. It's going to be a lot."
Subscribe to Eagle Eye anywhere you get your podcasts:
Apple Podcasts | YouTube Music | Spotify | Stitcher | Art19 | RSS | Watch on YouTube