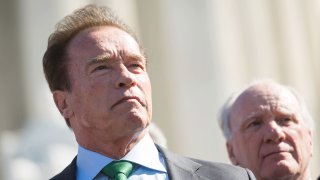 A career as a politician doesn't always require a political science degree, diplomacy, or knowing anything at all about public policy.
Frequently, popularity and name recognition are the deciding factors on ballots filled with different names. Ronald Reagan and Sonny Bono are among the most successful celebrities to win elections as serious contenders. Sports have also had a number of athletes venture into politics.
Former New York Mets and Boston Red Sox manager Bobby Valentine is looking to become the latest sportsperson to be elected in his bid for mayor of Stamford, Conn.
Here are some other former sports stars who became successful politicians.
Jon Runyan
Jon Runyan spent nine seasons of his NFL career as an offensive tackle for the Philadelphia Eagles. Runyan was selected to the Pro Bowl in 2003 and started 192 consecutive games for the Tennessee Titans and Eagles before retiring in 2009.
After his playing days were over, Runyan became a U.S. Congressman for New Jersey's 3rd district, winning a republican nomination in 2010 by defeating John Adler in the general election.
He was re-elected in 2012 but announced he would not seek another term in 2014 after the government shutdown.
Dave Bing
Dave Bing spent 12 seasons in the NBA as a legendary point guard for the Detroit Pistons, Washington Bullets and Boston Celtics from 1966-1978. Bing was a seven-time NBA All-Star, one-time MVP in 1976, and was inducted into the Naismith Basketball Hall of Fame in 1990.  
After he retired from the NBA, Bing ran for Mayor of Detroit in the 2009 special election. He defeated interim Mayor Kenneth Cockrel Jr. and completed Kwame Kilpatrick's term after he resigned.
Bing was re-elected to a full term in Nov. 2009. He served as the Mayor of Detroit for four years until 2013.
Kevin Johnson
Kevin Johnson played 13 seasons in the NBA as a point guard for the Phoenix Suns and Cleveland Cavaliers from 1987 to 2000. He was a three-time All-Star and won the Most Improved Player award for the 1988-89 season.
After his playing career, Johnson WAS elected as Sacramento's first African-American mayor in 2008. During his first term, he launched nine initiatives for the city including Volunteer Sacramento to encourage public service and For Arts' Sake to support local art. Johnson was a huge advocate during his tenure for keeping the Sacramento Kings in the city.
Johnson was re-elected in 2012 but did not run for a third term in 2016 after he was accused of sexual assault and harassment in 2015.
Manny Pacquiao
Manny Pacquiao has always been a fighter inside and outside the ring. Pacquiao enjoyed a decorated boxing career, defeating 22 world champions during his 26-year career. However, Pacquiao's ventures into politics have never been a secret.
In 2007 and 2009, he ran for a seat in the Philippine House of Representatives. It wasn't until May 2010 that he was elected to the 15th Congress of the Philippines, representing the province of Sarangani. Pacquiao was re-elected to the 16th Congress of the Philippines in 2013.
In 2016, he was elected as a senator by the Commission on Elections, garnering over 16 million votes. Pacquiao retired from boxing in September after losing to Yordenis Ugas and announced his bid to run for President of the Philippines in 2022.
Heath Shuler 
Heath Shuler was a magnificent quarterback for the Tennessee Volunteers. During his senior season in 1993, Shuler broke nearly all of Tennessee's passing records, which were later eclipsed by Peyton Manning. He came in second for the Heisman Trophy behind Charlie Ward that year. Shuler's spectacular college career led him to become a first-round pick in the 1994 NFL Draft by the Washington Football Team.
However, Shuler would go on to be one of the worst draft busts of all time and retired after just three seasons. In 2006, Shuler was elected to the U.S. House of Representatives as a Democrat from North Carolina's 11th Congressional District. He was re-elected in 2008.
Steve Largent
Steve Largent was one of the best wide receivers in NFL history. He played 14 seasons for the Seattle Seahawks and held franchise records in receiving yards, touchdowns and receptions.
After Largent retired from football in 1989, succeeded Jim Inhofe as a member of the U.S. House of Representatives from Oklahoma's 1st district in 1994. Largent was elected to the Pro Football Hall of Fame in 1995 as a congressman.
He resigned from his house seat in 2002 to run for the Governor of Oklahoma but lost to overwhelming favorite Brad Henry by just under 7000 votes.
Tom Osborne
Tom Osborne only played three seasons in the NFL from 1959 to 1961 as a wide receiver for the Washington Football Team and San Francisco 49ers. After his player days were over, he became a legendary coach for the University of Nebraska, leading the Cornhuskers to three national championships in 1994, 1995 and 1997. He was named ESPN Coach of the Decade in 1999.
Early in 2000, Osborne ran for the U.S. House of Representatives and was elected to Nebraska's 3rd district. Six years later, Osborne ran for Governor of Nebraska but fell to incumbent Dave Heineman.
Bill Bradley
Bill Bradley was a legendary member of the New York Knicks for 10 years from 1967-1977. He helped New York win their last two titles in franchise history in 1970 and 1973.
One year after he retired, Bradley was elected as senator of New Jersey in 1978 and served for 18 years. In 2000, Bradley ran for President in the Democratic primaries, opposing then-vice President Al Gore.
Despite having a number of high-profile endorsements including Michael Jordan and Phil Jackson, Bradley failed to win any of the first 20 primaries and caucuses in the election process and withdrew in March 2000.
Arnold Schwarzenegger
Arnold Schwarzenegger is considered the most famous bodybuilder to ever live. He won several awards including "Mr. Universe" and is a seven-time winner of the "Mr. Olympia" award.
After his bodybuilding career, Schwarzenegger went into acting and later ran for governor of California in 2003. He won in an infamous recall election by over one million votes and was elected for another term in 2006. His biggest accomplishment during his tenure was passing the first greenhouse emissions cap in the United States.