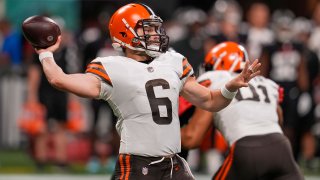 Baker Mayfield is ready for the regular season. 
The Browns starting quarterback didn't skip a beat in his final preseason appearance against the Atlanta Falcons before Week 1.
Mayfield played two series in the first quarter, completing 6-of-10 passes for 113 yards. He threw a touchdown to KhaDarel Hodge on a perfectly placed throw with 3:55 left in the first quarter.
The Falcons sat most of their starters, including Matt Ryan, Calvin Ridley and Grady Jarrett. However, Atlanta's first-round pick Kyle Pitts did start the game and exploded on a short catch for a 27-yard gain on the Falcons' first drive of the game.
The highest drafted tight end in NFL history gave fans a little taste of what is to come from the dynamic weapon this season.
Atlanta will welcome Jalen Hurts and the Philadelphia Eagles to Mercedes Benz Stadium for their home opener on Sept. 12 at 1:00 p.m. ET, while Cleveland will take on Kansas City and Patrick Mahomes at 4:20 p.m. ET.