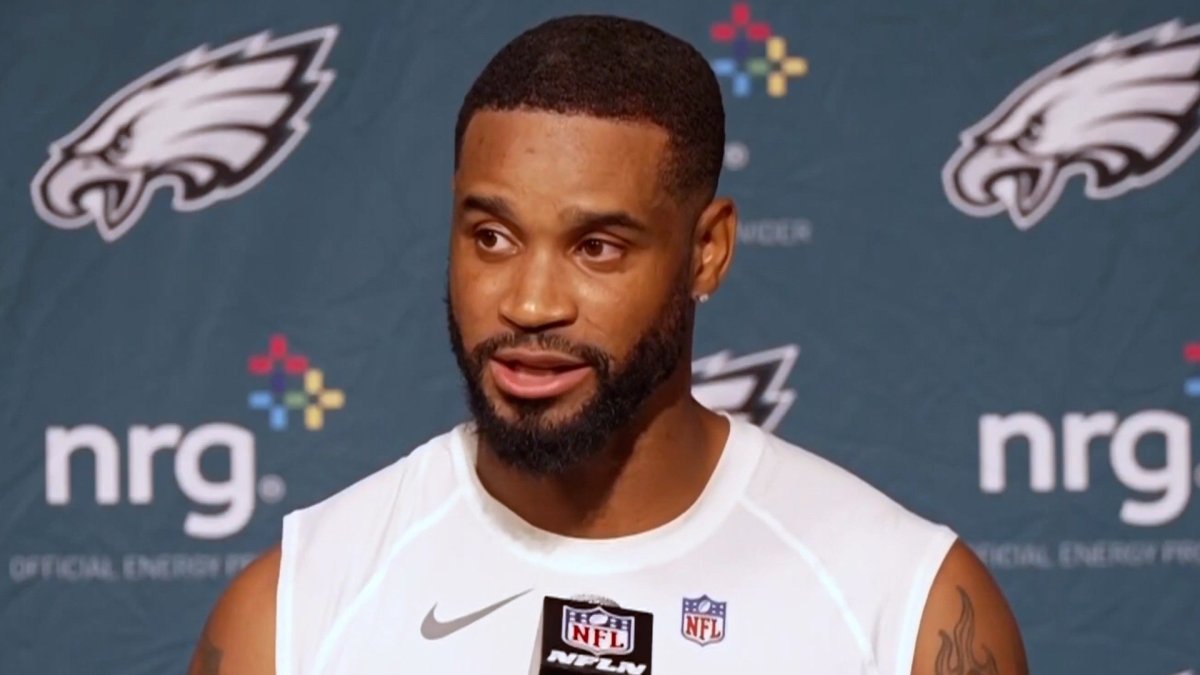 There's good news and bad news about Nakobe Dean's foot injury.
The good news is that it isn't a season ender. The bad news is that the Eagles are reportedly going to be missing their middle linebacker for a while.
Dean is expected to miss multiple weeks but will not require surgery.
"We're expecting him to be out a couple weeks," head coach Nick Sirianni said. "Just thankful that it's not longer than that. Because obviously these things can be worse. Just thankful that it's not a season-ending injury."
In addition to the injury to Dean, starting cornerback James Bradberry suffered a concussion on Sunday. He's in the NFL's concussion protocol, which means he likely won't be able to play on Thursday night against the Vikings.
The Eagles had a walkthrough on Monday so their injury report is an estimation. But the following players were listed as did not participate: S Reed Blankenship (ribs), CB James Bradberry (concussion), DT Fletcher Cox (ribs), LB Nakobe Dean (foot), RB Kenneth Gainwell (ribs)
Dean, 22, played 49 snaps in the Eagles' 25-20 win in New England before exiting the game with the injury and walked into the locker room in the second half. Dean was spotted after the game in the locker room wearing a walking boot.
The Eagles came into the 2023 season extremely light at linebacker with just three off-ball 'backers on the 53-man roster. The only two healthy ones now are Zach Cunningham and Christian Elliss.
In addition to the 53-man roster, the Eagles still have veteran Nicholas Morrow and rookie Ben VanSumeren on their practice squad. And according to ESPN's Adam Schefter, they are signing veteran Rashaan Evans to their practice squad. Remember, the Eagles have a short week before hosting the Vikings on Thursday Night Football.
Cunningham, who was signed on Aug. 6, started Sunday's game next to Dean. While Elliss rotated in a bit early, he played late in the game after Dean was out. Eagles defensive end Josh Sweat said Elliss and safety Reed Blankenship took over for Dean getting the defensive calls in after the injury.
If Dean is going to miss multiple weeks, it seems possible that he could land on Injured Reserve. If that happens, it would mean Dean will miss at least four weeks of action.
After what was basically a redshirt season as a third-round rookie out of Georgia last year, the Eagles came into 2023 with high hopes for Dean. They didn't sink any significant resources into the linebacker position and let it known early that Dean was the starting MIKE linebacker with the green dot on his helmet.
Before his injury on Sunday, Dean had some ups and downs but showed a bit of promise. This injury leaves the Eagles light at a position where they already had pretty much no depth.
Subscribe to Eagle Eye anywhere you get your podcasts: 
Apple Podcasts | YouTube Music | Spotify | Stitcher | Art19 | RSS | Watch on YouTube