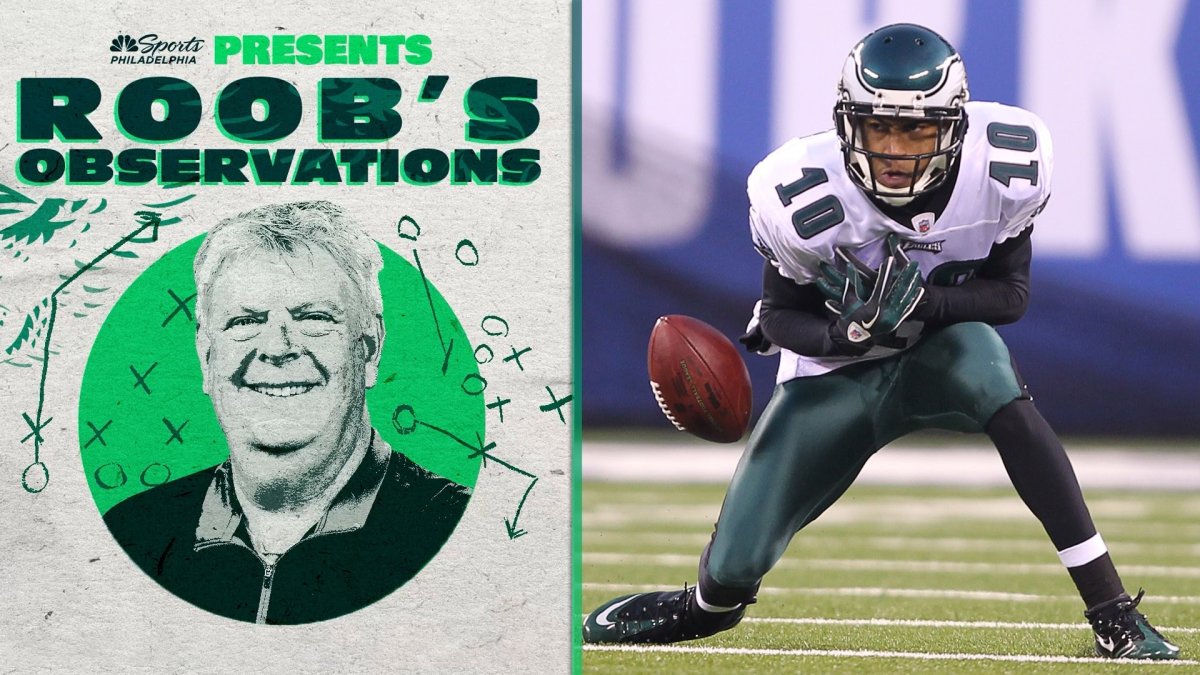 An Eagles star who may have been even better last year than we thought, a curious comparison between Dallas Goedert and Travis Kelce and my favorite memory of the Eagles' historic 38-31 comeback win over the Giants in 2010.
With training camp just a week away, let's take a look at this week's edition of Roob's 10 Random Offseason Eagles Observations.
1. Looking at some of the analytics from last year, I feel like A.J. Brown was actually even better than we all realized. A few of the numbers that stand out: Brown had a receiver passer rating of 112.3, which was 5th-highest in the NFL (among WRs with 100 targets). That means when Jalen Hurts or Gardner Minshew targeted Brown, their passer rating was 112.3. More impressive was his yards-per-target of 10.3 per target. That was 2nd-highest in the league (behind Jaylen Waddle's 11.6) and 2nd-highest in the 31 years Stathead has been tracking yards per target - behind only DeSean Jackson's 10.6 in 2013. And get this: Brown's 17.0 yards per catch was 2nd-highest in NFL history by a receiver with 88 or more catches – Calvin Johnson had 17.5 yards per catch on 96 catches with the Lions in 2011. And this: Brown's drop percentage was 3.4 percent, 8th-best in the NFL and best on record by far (since 2018) by a receiver averaging 17 yards per catch. Finally, Brown was 3rd in the NFL among wide receivers with 948 yards before the catch and 2nd with 548 yards after the catch. The only other NFL player last year with at least 900 yards before the catch and 500 yards after the catch? Justin Jefferson. The eye test said Brown was one of the best wide receivers we've ever seen around these parts. But the more you really break it down, the more you realize just how remarkable his first season as an Eagle really was.
2. As a rookie tight end with the Eagles in 1996, Jason Dunn had catches of 34, 54, 58 yards within his first six career games. He played 156 more games – mainly with the Chiefs – and never had a catch longer than 32 yards. 
3. When the 1999 season ended, the Eagles' all-time franchise record was 396-479-25. They were 83 games under .500 in their first 67 seasons with a .454 all-time winning percentage. Since 2000, they're 66 games over .500 at 217-151-2, a .589 winning percentage. That's left them just 17 games under .500 in franchise history. Another couple seasons like last year and the Eagles will have a winning record for the first time in the franchise's 90-year history. The best all-time record in franchise history? Seven games into the 1933 season, the Eagles were 3-3-1. They proceeded to lose to the Packers 10-0 the next week at the Baker Bowl at Broad and West Washington in North Philly and they've had a losing record ever since.
4. During the 1947 regular season, Chicago Cards running back Elmer Angsman didn't have a rushing touchdown longer than three yards, and his 3.7 average was 3rd-worst in the NFL among backs with at least 100 carries. In the NFL Championship Game against the Eagles at Comiskey Park? Angsman had two touchdown runs of 70 yards. Only 11 other players in history have ever had one 70-yard TD run in the postseason (including Marcus Allen, LeGarrette Blount, Charlie Garner and Fred Taylor). Angsman had two in one game. Only five players have had two 70-yard TD runs in a regular-season game – John Fuqua, Frank Gore, Maurice Jones-Grew, Lenny Moore and Barry Sanders. In that 1947 Championship Game, the Cards ran for 282 yards and beat the Eagles 28-21. The 282 yards remains the 7th-most ever against the Eagles and the 9th-most ever in a playoff game. A year later, the Eagles faced the Cards again in an NFL Championship Game at Shibe Park. This time, Angsman ran 10 times for 33 yards, and the Eagles won 7-0. 
5. From 2003 through 2008, Brian Westbrook had 4, 6, 4, 4, 5, and 5 touchdown catches. He's the only running back in NFL history with six seasons with four or more TD receptions, and he had them consecutively. Frank Gifford had five seasons with four TD catches – not consecutively - and a bunch of guys had four, including Darren Sproles. The only other RBs with four straight seasons with four TD catches are Marshall Faulk and a guy named Ray Mathews, who I've never heard of and played for the Steelers in the 1950s. 
6. Not saying Dallas Goedert is better than Travis Kelce. That would be ridiculous. BUT … look at these 2022 stats:
Yards per catch: Goedert 12.8, Kelce 12.2
Yards per target: Goedert 10.2, Kelce 8.8
Yards after the catch per target: Goedert 7.6, Kelce 5.9
Drops: Goedert 1, Kelce 8
Receiver passer rating: Goedert 123.6, Kelce 117.2
Catch percentage: Goedert 79.7, Kelce 72.4
7. Surprised how many people have been ripping on Britain Covey heading into training camp. Not sure what they were expecting from an undrafted rookie punt returner, but Covey's 9.3 average last year ranked 9th in the NFL, and from Week 6 on he averaged 11.6 yards per return, 5th-best in the NFL. Including the postseason, he averaged 12.3 yards per return from Week 6 on. And don't forget his 27-yard return in the Super Bowl out to the Eagles' 43-yard-line, which set up a Jake Elliott field goal just before halftime. That was the longest punt return in Eagles history in an NFC Championship Game or Super Bowl. Covey had a couple early muffs but cleaned that up quickly. Is he a future All-Pro? I don't know. Does he deserve another year bringing back punts? Sure.
8. Every few years it's important to remind ourselves that Hank Baskett is one of only three players in NFL history with three TD catches of at least 87 yards. He had an 87-yarder from Donovan McNabb against the Cowboys in 2006, an 89-yarder two months later from A.J. Feeley vs. the Falcons and a 90-yarder against the Rams from McNabb in 2008. Baskett – an undrafted receiver from New Mexico – has three of the 13 TD receptions of at least 87 yards in Eagles history. DeSean Jackson, Mike Quick and Ben Hawkins had two apiece, and T.O., Fred Barnett, Timmy Brown and Tim McDonald each had one. The only other players in NFL history with three 87-yard TDs are Wesley Walker, who played for the Jets in the late 1970s and 1980s, and Pennsauken's John Taylor with the 49ers in the late 1980s and early 1990s. The only other undrafted player who even had more than one is Steve Watson of Temple and St. Mark's High in Wilmington, who had TD catches of 93 and 95 yards from Craig Morton a few weeks apart in 1981. Other than those three crazy-long TDs, Baskett never had another touchdown longer than 10 yards in his career.
9. Only three players in NFL history have averaged 60 receiving yards per game and 17.5 yards per catch in their career with at least 600 catches: Hall of Famer James Lofton, Hall of Famer Don Maynard and DeSean Jackson.
10. Our Eagles top-10 list Friday was the 10 greatest comebacks in Eagles history and the unanimous No. 1 was the 2010 game against the Giants, which the Eagles won 38-31 after trailing 31-10 with 7 ½ minutes left. One of my favorite memories of that day actually came right after the game, when DeSean Jackson walked into a mobbed interview room at the old Giants Stadium to chat with the media. It was only a few minutes after Jackson ended the game with his historic, electrifying game-winning punt return, and he was still in full uniform, carrying his helmet, looking dazed. He walked up to the podium, stood there for a moment, then said, "Guys, hey, I need a minute to collect my thoughts." D-Jack then stepped a few feet to the right of the podium for a moment of silent reflection while everyone sat there waiting and watching. After maybe a minute and a half he stepped back to the podium and spoke about one of the greatest plays in Eagles history, and he didn't stop for 10 minutes. 
Subscribe to Eagle Eye anywhere you get your podcasts: 
Apple Podcasts | YouTube Music | Spotify | Stitcher | Art19 | RSS | Watch on YouTube