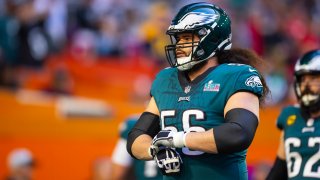 The challenge of replacing Isaac Seumalo, a deeper look at Jason Kelce's consecutive starts streak and thoughts on backup nose tackle.
It's the last edition of Roob's 10 Random Eagles Offseason Observations for at least 24 weeks. Starting in a few days, they'll be Roob's 10 Random Eagles Training Camp Observations!

And hopefully I don't drive to Lehigh Wednesday morning like I did the last few years!
1. Replacing Isaac Seumalo will not be easy. Seumalo was a very good guard when he was healthy during his seven years with the Eagles, and last year he was at his best. In his first full year at right guard, he ranked ninth on Pro Football Focus with a 72.7 grade out of 51 guards who played at least 750 snaps, and it earned him a three-year, $24 million contract with the Steelers. It speaks volumes about our belief in Howie Roseman to draft talented players and Jeff Stoutland's ability to develop young linemen that we're all assuming Cam Jurgens will be able to step right in and do what Seumalo did. And I do think Jurgens will ultimately be fine. But he's 23, he's played 35 career offensive snaps, he's under-sized at 290, he's got a lot to learn and this isn't a slam dunk. This is an important camp for Jurgens, who'll presumably work with the first offense at right guard most of the time, then swing inside to his future center spot when 35-year-old Jason Kelce gets a day off. That will allow rookie Tyler Steen – the heir apparent at right guard - to get some work with the 1's. We're all just assuming Stout can transform these young, inexperienced kids into Pro Bowlers, and he probably will. Certainly playing between a Hall of Famer and a multiple all-pro will make their lives easier. But Seumalo was a top-10 guard, and it's not just automatic that Jurgens (or Steen) can step in and immediately replace him. It's a process, and it's going to be a fun one to watch.
2. The Eagles had an NFL-high 24 offensive pass plays of at least 30 yards last year and allowed an NFL-low four 30-yard pass plays.
3. We all know Jason Kelce has started 139 consecutive regular-season games. But I found myself wondering where Kelce's streak ranks all-time among centers. Couldn't find that info anywhere, so I set out to figure it out. Because sometimes you just need to know. I started out with every center who started 139 total games in their career (thanks to Stathead) and then examined each guy's year-by-year start totals (thanks to Pro Football Reference) and for those who didn't miss games over a long period of time, I went to their game-by-game history on PFR to come up with the total streak lengths. Turns out Kelce's streak is 12th-longest in NFL history by a center, and if he plays all 17 games this year, he'll pass Tony Mayberry of the Bucs (144 in the 1990s), Todd McClure of the Falcons (144 in the 2000s) and Ken Iman of the Rams (140 in the 1960s and 1970s and later Eagles offensive line coach under Dick Vermeil, Marion Campbell and Buddy Ryan) and move into a tie for eighth with Carl Mauck of the Chargers and Oilers [156 from 1971-81]. If you include playoff games, Kelce's streak goes up to 149, which is 9th-longest. With another 17 this year, he'd get to 166, which would be 8th-longest. The regular-season record belongs to Mick Tinglehoff, who started a staggering 240 consecutive regular-season games for the Vikings from 1962 through 1978. Kelce would have to start every game through Week 16 of 2028 to match Tinglehoff. I wouldn't bet against him.
4. One of the more interesting positional battles going into training camp is for the backup nose tackle spot behind Jordan Davis. It's an important spot because you figure Davis won't be playing more than 55 to 65 percent of the defensive snaps. So you want a big, durable, reliable 330-pound type in there. Doesn't have to give you much rushing the passer but needs to be a force against the run. Marlon Tuipulotu got a bunch of reps at the nose last year before he got hurt – about 26 snaps per game – but there wasn't a ton of production there. They signed veteran Linval Joseph to replace Tuipulotu, and he was OK for a bit, but his production waned the more he played, and he's now 34 and currently out of football. One-time hotshot prospect Marvin Wilson got some work against the Texans at nose last year, but he's not really suited for that spot. Who else? How about Noah Ellis? He's 6-4, 346 and sure looks the part. He's never played a snap in the NFL, but the Eagles kept him around last year on the non-football injury list and he'll be back in training camp this summer. Ellis is the adopted brother of Eagles linebacker Christian Ellis, another intriguing training camp prospect. We'll see how they line up when camp starts, but I'll be surprised if Ellis isn't in the mix.
5. Including the postseason, A.J. Brown had 302 catches, 4,926 yards and 38 touchdowns before his 26th birthday. The only other players to do that are Larry Fitzgerald, Randy Moss, Mike Evans and Odell Beckham Jr.
6. Will be interesting to see if Devon Allen is ready for the start of camp on Wednesday. Allen suffered a left calf injury while training on June 26, two days after he ran world No. 4 13.04 in the 110-meter high hurdles at the New York Grand Prix. He tried competing at U.S. Nationals in Eugene, but after a pedestrian 13.51 in the qualifying rounds on July 8 he scratched from the semis a day later. He hasn't raced since, skipping the Diamond League meets he planned to compete in. If Allen isn't ready for the start of camp, the Eagles can place him on the non-Football Injury list, but for a fringe player like Allen, every day is crucial. He just can't afford to miss time.
7. With Dennis Kelly rejoining the Eagles, it's hard not to think back to the trade the Eagles made in August of 2016 that sent Kelly – the Eagles' 5th-round pick in 2012 - to the Titans in exchange for Dorial Green-Beckham. At the time, it seemed like a steal for the Eagles. Kelly was a decent backup tackle, but DGB was a 23-year-old receiver coming off a promising 549-yard rookie year with a 17.2 average. How did it turn out? DGB had a miserable year with the Eagles – 392 yards, a 10.9 average and 24 yards per game in seven starts. Kelly became a decent spot starter with the Titans and now begins his 12th NFL season back with the Eagles. Green-Beckham never played again. He's one of only three players in NFL history to catch 30 or more passes in each of his first two seasons and never play another snap in the NFL. The others are Hart Lee Dykes – a 1st-round pick in 1989 – who had 49 and 34 receptions in 1989 and 1990 for the Patriots and Titus Young, who had 48 and 33 catches for the Lions in 2011 and 2012. Green-Beckham played 31 career games. Kelly has played 130. 
8. Only three quarterbacks in NFL history have had at least 97 touchdown passes and 35 or fewer interceptions in their first four seasons: Patrick Mahomes, Russell Wilson and Carson Wentz.
9. Nick Sirianni needs to go at least 9-8 this year to have the best record by an Eagles head coach after three seasons. That's an honor that surprisingly belongs to Jim Trimble, who had a 21-13-2 record from 1952 through 1954, a .611 winning percentage. Also over .550 are Rich Kotite and Doug Pederson (both .604), Andy Reid and Chip Kelly (both .563) and Ray Rhodes (.552). Sirianni has a 23-11 record through two years, a .676 winning percentage. Nine wins puts him at 32-19 (.628), just ahead of Trimbl's .627. The last Eagles head coach who didn't have a winning percentage after three seasons was Marion Campbell, whose teams were 17-29-1 from 1983 through 1985. (We're not counting the three strike replacement games in 1987 against Buddy Ryan's record.)
10. How different were Eagles training camps under Dick Vermeil than they are today? In 1977, Vermeil's second training camp, the Eagles had 6 ½ weeks of two-a-days at Widener, starting July 11 and finishing Aug. 26. After that? According to Gordon Forbes' article in the Inquirer the day camp ended, "The Eagles will resume two-a-days Tuesday at JFK Stadium." So … after a 6 ½-week training camp ended, the Eagles went back to doing two-a-days. Obviously, everything Vermeil and other coaches from back then did has been outlawed, and quick, short practices like Nick Sirianni's are the wave of the future. But it's wild to compare. If the Eagles averaged 2 ½ hours per practice under Vermeil, taking into account days off before and after their preseason games (and they had six) – which were the only days off - the Eagles had something like 70 practices, or about 175 hours of practice – much of it fully padded and full live. The Eagles this year will likely have 16 training camp practices. Considering the average Nick Sirianni practice runs 75 to 90 minutes, we're looking at a total of about 22 or 23 hours of practice – much of it not padded and none of it live. Old school guys hate it. But it works.