With slim odds, the Flyers didn't strike gold in the Connor Bedard sweepstakes.
But they will have a chance to bring in some needed high-end talent near the top of the 2023 NHL draft.
"We're fortunate it's a good year," Flyers general manager Danny Briere said of the draft crop in April. "We have quite a few picks and we have a high one.
"You have to go through a lot of bad times to get there unfortunately, but it's exciting when you're at the draft table and you get to pick such a high pick. It's going to be a critical pick for the organization moving forward, there's no doubt about it."
After selecting Cutter Gauthier fifth overall last summer, the Flyers are slotted at No. 7 for this year's draft, which will be held June 28-29 at Bridgestone Arena in Nashville, Tennessee. With the Ivan Provorov trade, the Flyers acquired the 22nd overall pick, giving them two first-rounders and 10 total selections in the draft. The first round kicks off at 7 p.m. ET Wednesday, while Rounds 2-7 follow Thursday starting at 11 a.m. ET.
Leading up to the draft, we're breaking down targets for the Flyers at No. 7.
Next up:
Oliver Moore
Position: Center
Height: 5-foot-11
Weight: 188
Shoots: Left
Team: USNTDP
Scouting report
Behind big-time speed and skating, Moore plays a game that NHL coaches really appreciate. He's a two-way pivot with great competitiveness, defensive effort and ability to make things happen with his feet.
On a star-laden U.S. national U-18 team, Moore put up 75 points (31 goals, 44 assists) and a plus-42 rating in 61 games this season. Nine of his goals came on the power play and two at shorthanded.
At the 2023 IIHF U-18 World Junior Championship in late April, the Minnesota commit had nine points (four goals, five assists) and a plus-6 mark in seven games as the U.S. won gold.
"Oliver Moore, one of the things he has going for him is he might be one of the best athletes in the draft class," Dan Marr, the director of NHL Central Scouting, said June 1 in a phone interview with NBC Sports Philadelphia. "Like, in all the testing scores, he has kind of been at the top in just about all the categories. You have a good athlete. That sheer speed that he has, you can put him on the ice in any situation."
Because he lacks some size and a prolific scoring type of skill set, Moore's ceiling will be debated. But there's definitely second-line center potential, a player that can be trusted with tough assignments and late in games.
"As a younger player, I'm pretty sure he's going to be a penalty killer to start off with just so that the coach will get him ice time," Marr said. "Because he's going to create so many scoring chances on the PK, he creates so many odd-man rushes just because he's got that breakaway speed."
Moore is the eighth-rated North American skater by NHL Central Scouting. In its updated rankings, EliteProspects.com has him as the eighth-best player in the draft, while The Athletic's Scott Wheeler has him at No. 9 and as the sixth-best center.
"Down low, he's quick," Marr said. "Just the elements that he brings and the way he utilizes them; there are a lot of players where their head can't keep up to the speed of their feet, but he's not one of them. When you have someone that can execute the plays and see the ice at that top speed, it's a pretty good prospect."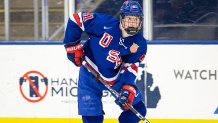 Fit with Flyers
Moore would be a fine pick for the Flyers and there's a good chance he'll be available at No. 7.
He has plenty of winning qualities and contending teams always feature important players like him.
"He's not the biggest guy, but he's an athlete," Marr said. "He's got a lot of maneuverability into his game, but he's solid. Just a solid athlete, a solid prospect."
The Flyers have emphasized how they need more high-end talent. It's fair to wonder if Moore has the overall package of topflight talent the Flyers could be swinging for at No. 7. They're a rebuilding team that needs scoring, among other things, and should look for upside.
But Moore is already an elite skater and there's reason to believe he can be an effective scorer at the NHL level.
The fact that he plays a premium position is a bonus. Gauthier is a natural winger, but he's playing center at Boston College and the Flyers hope he plays down the middle in the NHL. If the Flyers draft Moore, it would give them another center with top-six potential. Gauthier and Moore bring different elements and they both compete.
The Flyers have also made out OK with tapping into the U.S. national team development program. Three of their first-round picks over the last five years have come from the program: Joel Farabee (2018), Cam York (2019) and Gauthier (2022).
More targets
• Could high-scoring center with 'no holes' be there for Flyers at No. 7? ​
• Tage Thompson type of prospect? Big winger should intrigue Flyers at No. 7
• Reinbacher, with 'all the skills and tools,' may be draft's top D-man for Flyers
• Another talented center with big shot Flyers will have to consider at No. 7
• Will the Flyers want a 132-point 'magician' at No. 7?
• 'Dynamic,' puck-moving defenseman may give Flyers trade-back option
• A Brayden Point type of impact for Flyers at No. 7?
• 'Power forward' with skill can help Flyers' future, but will he be available at No. 7?
• Flyers could eye winger with 'blast of a one-timer' in 1st round
• Swede has 'character game,' sleeper potential for Flyers in 1st round
Subscribe anywhere you get your podcasts:
Apple Podcasts | Youtube Music | Spotify | Stitcher | Art19 | RSS | Watch on YouTube