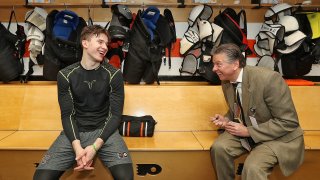 Practice was long over and Claude Giroux hit the ice to soak in his final skate at Flyers Training Center.
The facility had become relatively quiet in the afternoon. The captain skated leisurely with his family and loved ones, the day before his 1,000th career game and three days before being traded to the Panthers.
Out came Zack Hill from his office, scurrying down to the ice.
And capturing the memory for Giroux and family.
The hustle and awareness summed up Hill in a nutshell.
The Flyers' longtime, do-it-all PR maven, a beloved and invaluable person in the organization, is calling it a career on July 1. His retirement was announced Saturday by the Flyers. Hill will remain a consultant for the franchise, while Joe Siville, the team's director of public relations, will be promoted to senior director of communications, Hill's final role with the Flyers.
"I couldn't ask for a better mentor not only because he's simply the best at what he does but because he genuinely cared about helping me learn and grow," Siville said Saturday to NBC Sports Philadelphia. "Beyond that, and what's more important, is that Zack has become, and always will be, a great and trusted friend."
The outpouring of congratulatory and thank you messages Saturday spoke volumes of Hill's impact on the Flyers, NHL, media and community. The West Virginia graduate worked 29 seasons for the Flyers and in Philadelphia sports for 35 years. Hill mastered his craft with versatility, accessibility and character.
"Zack is the epitome of a true professional and since I arrived with the Flyers I have seen firsthand what makes him one of the best in the industry," Flyers general manager Chuck Fletcher said in a statement released by the team. "No request was too big or too small for him to give you his full attention. Zack's immediate instinct is always to lend a hand and provide help to anyone who asks, often sacrificing his own time, whether it was for the players, coaches, media and more importantly, the community."
Prior to becoming senior director of communications, Hill served the Flyers as the team's media relations manager and public relations director. The Flyers' PR team won the Dick Dillman Award in the Eastern Conference for top staff during 2011-12, 2014-15 and 2017-18. It has been a finalist for the award 12 times.
Hill, who started with the Sixers, was given the Good Guy Award by the Philadelphia Sports Writers Association in May.
"I am fortunate to have known Zack for all of his years with the Flyers and have developed a close relationship with him," Flyers senior advisor Paul Holmgren said in a statement released by the team. "Zack has been, and always will be, a devoted member of the Philadelphia Flyers and a true friend to me.
"I don't think there's a person who doesn't agree that he is one of the best at his position, but what truly makes Zack such a special individual is his nature of treating everyone he meets with kindness and taking a genuine interest in their life and how he can help."
Subscribe to and rate Flyers Talk
Apple Podcasts | Spotify | Stitcher | Art19 | YouTube