Let's preface this by stating the obvious — the Flyers are in the midst of a rebuild. (No more aggressive retools though, so … hooray!)
They're entering this season with *extremely* minimal expectations. Seriously, the bar is on the floor.
And yet, it's weeks before the season is set to begin and the Flyers are doing everything right.
It's a new era of orange, after all.
After watching the organization float in a very strange limbo the past few seasons, seeing change — in any capacity — is promising. The most recent change, on display for the first time Wednesday, was a pleasant surprise.
That's right — the double logo at center ice has returned.
It's a small gesture but a meaningful one when it comes to the history of the organization.
The Flyers made the switch to the single logo prior to the start of the 2019-20 season. It was met with many mixed reviews, mainly because the latter was a staple that former Flyers owner, the late Ed Snider, loved.
It felt like a piece of history had been gutted.
The only thing that matters now is that it has been restored.
You could also use the center ice logos as a visual representation of the team throughout the past few seasons.
The one big logo slapped in the middle dawned the giant red line right down the center, slicing it in half. When looking at it, it just didn't feel right. Plain and simple. It felt like the state of the Flyers. A little broken, though you'll look at it even if you don't want to.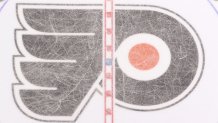 Looking at the new sheet for the season with the return of the dual logos envokes a sense of excitement. A sense of unity. Change.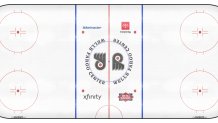 Nicely done, Flyers.
Now, what are the chances they'll bring back Doop? Asking for a friend, of course.