ALLENTOWN, Pa. — As general manager Danny Briere and company looked on from the management booth, the Flyers kicked off the exhibition season with a rookie game at PPL Center.
Led by AHL affiliate Lehigh Valley bench boss Ian Laperriere, the Flyers fell to the Rangers, 4-2, Friday night. New York snapped a 2-2 tie in the third period and sealed the game with an empty-net goal.
Rookie camp invite Matt Brown and 2023 fourth-round draft pick Alex Ciernik provided the Flyers' goals.
The club's prospects opened camp Thursday and had a morning skate Friday before playing the first of two rookie games against the Rangers. So, understandably, Laperriere wasn't beside himself with a loss and instead highlighted positives.
"It's the first game, it's a weird game, we had two practices, there's not that much structure," the third-year Phantoms head coach said. "They will be the first ones to tell you that they need to be better, but there's no panic. It's just the first scrimmage."
• The Flyers' top forwards Tyson Foerster, Elliot Desnoyers and Bobby Brink all showed flashes and rust.
Foerster, who scored an OT winner in the first rookie game last September, had a few good looks Friday but couldn't bury one.
The detail-oriented Desnoyers made some heady plays but also committed a second-period penalty that resulted in a New York power play goal.
Brink was active and picked up a nice assist on Brown's man advantage marker to help give the Flyers a 1-0 lead at first intermission.
"I felt like they were trying maybe a little bit too much," Laperriere said. "Normal. It's the first scrimmage. It is a scrimmage. It's preseason, but we've got two practices, there's no structure, on [the Rangers'] side, too. No structure on our side. I feel like they'll be better tomorrow, the rust is going to be off a little bit.
"It's just the beginning of camp. I'm not worried about those guys at all."
Laperriere and the Flyers are eager to watch a healthy Brink this season. Last year, the 22-year-old had the difficult task of jumping into the Phantoms' season in January after a lengthy recovery from hip surgery.
• Oliver Bonk and Adam Ginning made up the Flyers' top defensive pair. The Flyers drafted Bonk in the first round this summer at 22nd overall, while Ginning was arguably Lehigh Valley's best defenseman last season.
The two were solid together. Bonk read plays well defensively. Ginning was unsurprisingly poised and tallied an assist.
"It was really special," Bonk said of his first game action with the Flyers. "It was obviously great putting on the jersey for the first time, it kind of hits you all over again, just seeing your name on the jersey. The locker room's pretty NHL-like, too, so it was a really good experience."
Bonk and Ginning were on the ice for New York's go-ahead 2-1 goal in the second period. The Flyers had trouble in their attempt to exit the defensive zone. Denver Barkey received a pass in a tough spot and the Rangers forced a turnover, which ended up in the back of the Flyers' net. Bonk tried to erase the Flyers' turnover but couldn't clear the puck on the back wall as New York swarmed him.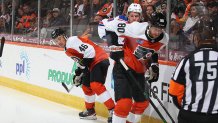 • Ciernik fired home a shot from the slot after camp invite Jacob Gaucher made a strong and persistent play behind the net. The 18-year-old's goal drew the Flyers even at 2-2 with about 30 seconds left in the middle stanza.
Ciernik is a fun and interesting prospect with offensive upside. This season, he'll be playing in HockeyAllsvenskan, a Swedish pro league that is a tier below the SHL.
The 5-foot-10, 174-pounder relies on skating and skill.
"As you can tell, I'm not the biggest guy," Ciernik said. "That's definitely something I have to work on, but it has been that way ever since I was a kid. I just try to get through with the things that stand out in my game, which is speed. As long as I can just be smart with how I play — because I'm not going to be 6-4 ... ever; let's be honest. So I've just got to be smart."
His HockeyAllsvenskan season with Vasterviks starts in a week. Did he get a chance to chat with any Flyers at the practice facility?
"Saw a couple at breakfast. Too scared to go up to them and say anything, but it's cool to see some of those guys," he said with a smile. "They're really nice guys. Whenever they see us younger guys in the gym or whatever, they'll come to us and say hi, welcome and congrats to get drafted. That's definitely something I respect out of them, just to come to us younger guys and be nice."
• When Laperriere was asked for some positives, Zayde Wisdom was the first player he mentioned.
The 2020 fourth-round winger was on the fourth line and didn't get power play time. However, he seemed to consistently be in the middle of things.
Wisdom dropped the gloves, played on the penalty kill, drew a penalty after crashing into the Rangers' net and blocked a big shot.
"He went north all night, he was physical," Laperriere said. "He was the Wis that we need him to be, especially for me."
The Flyers are definitely looking for more from Wisdom this season. Last year was challenging for the 21-year-old. If he can first find his role at the pro level, some more offensive responsibility could come later.
"He's probably going to evolve and if he keeps improving he's going to be a better player down the road, but right now, for me, he can be a penalty killer and a guy who gets his nose dirty," Laperriere said. "And he did that tonight. I'm proud of him. That's just the start. He knows that."
• Nolan Maier was between the pipes for the Flyers and converted 23 saves.
• The Flyers and Rangers are right back at it Saturday for a second rookie game at PPL Center (5:05 p.m. ET/NBCSP+).
Carson Bjarnason, the Flyers' 2023 second-round draft pick, will get the full game in net.
Emil Andrae watched from upstairs Friday but is expected to be on the ice and play big minutes in Game 2. The 21-year-old is the team's top defensive prospect in rookie camp.