Growing up in East Oak Lane, the northern most part of Philadelphia, Sean Grevy Jr. realized at an early age that playing ice hockey was a privilege.
That most kids in his neighborhood didn't know the sport because they never got the chance to know it.
In his eyes, the sport was special. Flyers players were icons. A chilly rink was everything.
But to so many others, hockey was an unknown.
Grevy's uptown upbringing became a driving force in creating the 43 Oak Foundation, a non-profit organization focused on breaking the barrier for underprivileged and minority athletes who want to further their education through ice hockey. 
The 34-year-old Grevy, an advertising executive and lifelong Flyers fan, founded the program in 2017, naming it after the address of his childhood home. While coaching hockey in Manhattan, he saw too many inner-city kids face racial and financial roadblocks as they tried to pursue the game they loved.
"We would go to hockey rinks on Long Island and these kids would be called every racial word in the book. It just crushed me," Grevy said in a July interview with NBC Sports Philadelphia. "Growing up in a neighborhood where I was the minority, I know what it's like to be the only one. I also know how hurtful those words can be toward minorities. I had friends that I saw get called names like that and I grew up with them and I knew what they were going through. It was just tough to see.
"You could be a stellar hockey player and if you don't have the proper connections, the financial backing and the right mentors in your world, good luck. And I don't think that's fair, I never thought it was fair."
Now, Grevy is in his sixth year running the 43 Oak Foundation, which has impacted around 120 kids and their families, across 16 different states. The program, based out of New York City, has grown exponentially through Grevy's vision and its partnership with UBS and the Islanders. The foundation not only puts the kids on the ice, but it also helps them prepare for the future by implementing important life skills.
"We love working with Sean," Anneliese Mesilati, the UBS head of brand activation, sponsorships and events, said in a July interview with NBC Sports Philadelphia. "I was at a mentorship session with the players, we did a mentorship session on speaking and presentation and interview skills. Coach Sean got up in front of everyone and kind of presented the day and I certainly felt like I could go out in the world after I had that team talk from Coach Sean. He's very, very inspirational as an individual and super committed."
Many of the players in the 43 Oak Foundation compete on New Jersey travel teams. 
"We're not a team," Grevy said. "We don't play games, we don't play tournaments, but we do have clinics and practices and we do follow the kids throughout their hockey year, try to get them together as much as we can. But our kids are all Tier 1 AAA players for the most part or high-level players."
The foundation has given Grant Coykendall, a 19-year-old forward from Michigan, a chance to play junior hockey in New Jersey for the Titans.
"This year, he's getting a crack at their NAHL team, which is pretty much the highest level of juniors that you can play," Grevy said. "A lot of kids from the NAHL go on to play NCAA college hockey, which is ultimately what we want for all of our players."
Sky Silverstein, who came up through 43 Oak and went on to play collegiately at UMass Dartmouth, is now the executive director of the foundation. He turns 26 years old next week.
Grevy called the mentorship program "a really important component" to the foundation. The off-the-ice aspect was facilitated by UBS.
"We look at career readiness, we look at interview skills, we've got a program where we work on financial education and financial literacy," Mesilati said. "We have a financial wellness team at UBS and we now have a program that we offer to the players and their families critically. Because, for example, when a player goes to college, that's a decision that impacts the whole family.
"So we are running a program with them around navigating the college loan system, just making sure that players who may well get scholarships for their athletic abilities, that they have a really strong foundation when it comes to financing their next steps in college and in sports."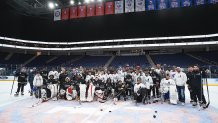 Prior to the birth of the 43 Oak-UBS relationship in 2021, Grevy was supporting his cause by opening his own pockets.
"Trying to help as many kids as I could," Grevy said. "Then fortunately UBS and the New York Islanders came to our door at the right time because the program was starting to grow faster than I could honestly handle. They came to us with a grant of $1 million over five years. It has been a tremendous help to our program because now we went from maybe five to 10 families to now over 120 families in the program. We're nationwide, really North America because we have some kids from Canada, too. It has been a lot of growth."
The foundation raises money through various fundraisers and partners, as well as individual donations.
"Sometimes it could be as low as $25 or it could be somebody who donates $2,500," Grevy said. "We're grateful no matter what."
Grevy, who lives in Bucks County, can trace his compassion back to his East Oak Lane days. He loved hockey and his parents did whatever they could to afford him the opportunity to play. His father Sean Grevy Sr. and mother Joyce Eck often burned a lot of miles to make it happen.
"My mom actually would kind of move around so that I could play ice hockey for certain organizations," Grevy said, "because there wasn't really any ice hockey in my dad's neighborhood in Philly."
Grevy adored the toughness of his hometown Flyers and players like Eric Lindros, Rod Brind'Amour and Todd Fedoruk. In a pinch-me moment as a teenager, he met Fedoruk through his stepdad. They've been good friends ever since and Fedoruk serves on the 43 Oak Foundation's board of directors.
As a kid, Grevy attended the Flyers' Game 7 loss to the Devils in the 2000 Eastern Conference Final. He hasn't forgotten it over 23 years later.
"It hurt because I was such a die-hard fan and I hated the Devils," Grevy said. "I know that's not, like, a great one to talk about, but I think losses are just as important as wins. There's some unity in losing. … I just remember how electric the building was."
Fueled by his Philadelphia roots, Grevy has always hoped the 43 Oak Foundation could connect with the Ed Snider Youth Hockey Foundation.
"If Snider Hockey is listening, we'd love to sit down with you and figure out how we can work together with our kids to help continue to grow the game and assist you guys in any way that we can," he said. "Because that's how we keep growing this sport.
"All we want to do is just spread positivity and light into the sport. And be real. We want to be real. I'm not a fluff guy, man. I don't like to sugarcoat things to make them look good so people can say we did our part. Everything we're doing right now, it's hands-on, it's roll the sleeves up and let's get dirty. Let's do what we have to do to help these kids. That'll never change. As long as I'm involved, that'll never change."