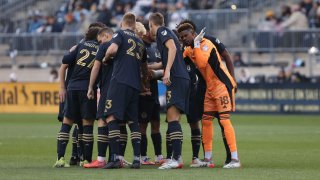 The Union's MLS Cup Eastern Conference semifinal matchup is set.
They will host Nashville SC, who eliminated Orlando SC Tuesday night, 3-1 at Nissan Stadium.
The game will be played Sunday evening, 5:30 pm at Subaru Park, where Jim Curtin's squad was 11-3-3 during the regular season. The Union come into the game with just one loss in their last 12, including their 1-0 win over New York Red Bulls in the MLS Cup first round.
Both teams finished the regular season with 54 points in the standings, but Union won the tiebreaker in the standings with 14 wins, compared with 12 for Nashville, earning the U the higher seed and the right to host Sunday's game.
This is no small detail, when you consider that Nashville was undefeated at home this season (8-0-9).
Nashville is led by their MVP candidate, Hany Mukhtar, who either scored or assisted on 28 goals for Music City this season, leading the league. Mukhtar added two goals in Tuesday's game, including the game-winner late in the second half.
The Union split their two head-to-head matchups with Nashville this season, each team winning at home. The Union beat Nashville at Subaru Park last month, 1-0, on a penalty kick goal by Kacper Przybylko.
A win Sunday will earn the Union its first-ever trip to the MLS cup conference finals.