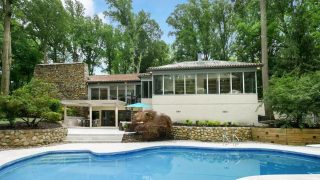 Did you know Muhammad Ali once owned a lavish house in Cherry Hill, New Jersey?
Neither did I!
But Ali's former South Jersey abode was recently re-listed, and if you have a casual $1.85 million on hand you could be living like the greatest boxer of all-time.
MORE: Ryan Howard selling $5.95 million Rittenhouse condo
The six-bedroom, six-bathroom, 6,600-square-foot house isn't just a run-of-the-mill athlete mini-mansion. It's got a bunch of fascinating little details and designs with a ton of huge, rangy windows to provide natural light. The listing is very much worth viewing for the photos.
The property includes a multi-level deck, a hot tub, a patio, an in-ground pool, a gazebo, a tennis court and a basketball court, and more. The home also includes a 12-foot-long wet bar, a personal gym, and a private guest quarters.
It's pretty bonkers.
Here are just a few of the highlights: