It's Playoff Eve in Philly and once again, Bryce Harper is out here reminding us that he is the very best.
No, this isn't about some crazy highlight-reel-worthy home run to reach No. 300 in his career or tossing a helmet into the stands after getting ejected from a game — those things already happened.
This one is on the simple-side of things but in a way it's equally as important.
Harper continues to build his legacy as a player — especially in this city — but he's also doing so as a teammate.
The Phillies took to the field at Citizens Bank Park for practice on Monday in preparation for the NL Wild Card series against the Marlins. Then Harper emerged ... wearing a Trea Turner shirt. (The Phanatic hat and cleats are just a beautiful bonus.)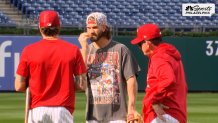 Even Rob Thomson had to take a second to admire the new fit.
Like I said, it's subtle. Some may even call it silly. I, however, think it's a perfect way to show that while he's always striving to be the best he can be, he's also constantly rooting for his teammates' success as well.
What a guy.