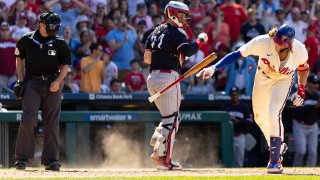 The Citizens Bank crowd of 40,111was on its feet, pumped up, making noise, doing its best to rattle Twins reliever Caleb Thielbar. The Phillies were down by a couple runs in the bottom of the seventh but were rallying. They had the bases loaded with two outs. The count on Alec Bohm was 3-2.
Thielbar threw a fastball at the knees that, according to the replay, appeared to be several inches inside. Bohm started toward first base.
Home plate umpire Alex MacKay called the pitch a strike.
Bohm, incredulous, spiked his bat.
McKay pointed, signaling an equipment violation, which carries a fine.
Bohm took a few steps and slammed his helmet to the ground.
MacKay ejected him.
It's an old baseball aphorism that a sure sign that an umpire is doing a good job is when he goes unnoticed. Without passing judgment, let's just say that MacKay did not go unnoticed for the rest of the game. He was booed. Chants were directed his way.
And it only got worse when he rang up Bryce Harper leading off the eighth on a pitch that also appeared on replay to be out of the zone. Harper showed his displeasure with a dismissive bye-bye wave as he walked to the dugout.
Manager Rob Thomson came out of the dugout for a more in-depth discussion and was also tossed.
To be clear, that's not the reason the Phillies lost their second straight game to the Twins, 3-0, on a steamy Sunday afternoon.
They lost because, outside of loading the bases in the seventh, they got only two other runners past first, both in the second inning. They lost because their lineup, so punishing in the first eight games of the homestand (60 runs, 21 homers) went missing in the last two: One run and a combined .212 team average.
That had nothing to do with the umpires. It did, however, leave the Phillies wondering about what might have been.
"I mean, we would have had Bryce Harper coming up with the bases loaded, down by one," Bohm said. "So as much as that impacts the game, you never know what's going to happen.
"We're trying to win a game. Big spot. I felt like I did all I could do and the bat was kind of taken out of my hands. But it's just a bunch of humans out there. Mistakes happen. It is what it is."
Thomson also shrugged off the what-if speculation. "I don't know," he said. "First of all, that's the last job I'd want. Being an umpire is very difficult. He missed the call but we had other opportunities."
At the same time, hitting becomes even more difficult when the batter has to wonder about the umpire. It may not be a coincidence that, after Harper was called out, Bryson Stott and Nick Castellanos struck out swinging. It could have been that they swung at pitches they wouldn't have otherwise offered at because they were unsure what would be called.
"It makes at bats a bit more difficult if the umpire is a little inconsistent back there," Thomson conceded. "But we had some good pitches to hit and, again, we just didn't get it done."
MacKay is a minor league ump who was filling in for a vacationing big leaguer. So was Lew Williams, who had three calls overturned in the first game of Wednesday's doubleheader. Tough week for the men in blue.
After struggling in July (0-3, 6.11) starter Ranger Suarez has shown signs of rebounding this month. He gave up 2 runs on 6 hits and a walk while striking out eight. For the month his earned run average is 2.45.
"The last couple outings I've felt good. I've felt comfortable. I felt I had good command of my pitches in the strike zone," he said through translator Diego Ettedgui.
Thomson insisted he isn't worried that the bats have turned cold, preferring to credit Twins pitchers Pablo Lopez on Saturday and Sonny Gray on Sunday.
"You have to look at it realistically," he said. "We faced two pretty good pitchers in those last two games. And I think there were times during those games we put good at bats together. We just didn't get it done with runners in scoring position, and that comes and goes."
That's fair. On the other hand, the Phillies are hoping to make another deep run in the postseason this year. And you know what they'll have to do in order to do that?
Beat good pitchers.