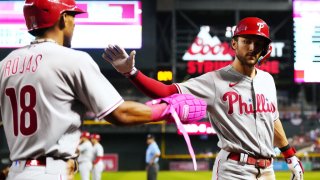 The next several years, with Bryce Harper, Trea Turner and the Phillies' top players in the midst of their prime or just reaching it, will determine how this era's group is remembered. Will it be the team that overcame back-to-back heartbreaking late-October exits to finally win it all, or the high-priced club that teased, that as Nick Castellanos put it, "underachieved?"
The Phillies of 2022 and 2023 were built around a powerful offense and one of baseball's best rotations. For large chunks of the season, they were carried by one or the other. There were times both units clicked simultaneously and they went on runs like mid-June (winning 13 of 15), late June (9 of 11), early August (9 of 12), late August (7 of 8) and late September (7 straight).
For two weeks in October to begin the playoffs, the Phillies were the peak version of themselves. They were averaging two home runs and two stolen bases per night and their pitching staff had a collective ERA in the mid-1.00s. It was a team on fire, jumping out to early leads on a nightly basis and clinging to them. The Diamondbacks didn't look like they belonged on the same field as the Phillies in Games 1 and 2 of the NLCS, before they made a series of wise and effective adjustments the Phils couldn't solve.
In consecutive Octobers, the Phillies' offense has gone anemic to end the year. The lineup went 9-for-98 to finish the 2022 World Series. That was against an experienced Astros pitching staff loaded with talent and experience in Framber Valdez, Justin Verlander, Cristian Javier and a lockdown back end of the bullpen.
This time, the downfall came to end the NLCS, despite the Phillies hitting Arizona's best pitcher, Zac Gallen, hard. They hit Merrill Kelly hard in Game 2, as well. Then they chased ball after ball after ball the rest of the series. Turner and Castellanos were the most glaring examples. They had been so locked in during the wild-card round and NLDS and that extended into the start of the NLCS. They, and the Phils' lineup as a whole, experienced major success ambushing a pitcher's first offering. The D-backs decided to stop throwing pitches in the zone to begin a count. It worked. Turner chased curveballs in the dirt. Castellanos swung freely at the low-and-away slider. J.T. Realmuto chased the high fastball.
The Phillies talked about being built for these moments, but the at-bats told a different story. They told a story of players trying to end a series with one swing rather than letting the game come to them.
"We swung at way too many pitches out of the strike zone this year, way too many," president of baseball operations Dave Dombrowski said at a year-end wrap-up press conference late last week. "I know we have guys that chase, but for whatever reason they chased even more this year and that's something I think we need to address and something I know we will address because we've already had meetings on how we get better in that regard."
On the surface, it doesn't appear there will be many major changes this offseason. When asked how the Phillies go about correcting the extreme streakiness that has played out the last two Octobers, Dombrowski went through the lineup to highlight how many positions are locked up.
"It's hard for me when I look around our club that we struggle scoring runs at times because I'm not sure where else you're going to go," he said. "Guys can have better seasons. J.T. Realmuto's one of the best catchers in baseball. Bryce is outstanding. (Bryson) Stott's a young and growing player but he did well. Turner at shortstop is a star player who at the end here, last four or five games, struggled. (Alec) Bohm's a good hitter. Castellanos struggled at the end, which he has a tendency to do, but he swung the bat very well too. We like Brandon Marsh, he continues to grow. (Kyle) Schwarber's an outstanding hitter."
Then he got to center field. Johan Rojas was called up on July 14 this season, a month prior to his 23rd birthday. He arrived ahead of schedule for three reasons: Cristian Pache was injured, Rojas has elite defensive skills and he had shown offensive improvements in the minor leagues.
Initially, he was just going to fill Pache's spot until Pache was ready to return from an elbow injury. But Rojas' defense immediately made the Phillies a better team. Beyond that, he held his own at the plate. He hit .302 with a .342 on-base percentage in 164 plate appearances. He laid down six sacrifice bunts, even though the placement wasn't great. Most figured the league would catch up to him and he'd slump at some point, but that slump didn't come until the playoffs. And when it hit, it hit hard. Rojas went 4-for-43 with one walk and 15 strikeouts. By the end of the postseason, Marsh was being pitched around so Rojas could be attacked.
The everyday center field job will not be handed to Rojas, Dombrowski said. He'll have to earn it.
"You're always looking to get better," Dombrowski said. "Rojas' defense far exceeded his offense during the regular season. My question with him when we made the move to bring him to big-league level was, 'Can he keep his head above water to keep him in the lineup with his defense because of the other offense we have?' And the answer was, 'I think we can do that.' And we really did that until we got to the postseason and they really went after him and he scuffled at that point.
"So I'm not going to anoint him a position with our big-league club next year. He has to be able to contribute some offensively or else he has to go down to continue to develop. It doesn't mean we don't love him. We think he's a really good player. But we do need more offense than that out of a position. I don't know that there's anything different other than we continue to work on trying to control the strike zone."
So many pieces of the Phillies' offseason are up in the air until a decision is made about Harper's future defensively. Is he a first baseman moving forward? Do the Phillies attempt to play him in right field again? Do they play him in left field to keep Castellanos in the position where he's spent the last two seasons?
If Harper is the first baseman in 2024, it likely spells Rhys Hoskins' exit. There wouldn't be enough playing time for Hoskins in that scenario unless Schwarber returned to left field on at least a part-time basis, and 80 games of Schwarber in left field could negate some or most of the offense Hoskins were to add.
If Harper is ready and willing to return to right field, then perhaps the Phillies explore Castellanos trades and retain Hoskins in free agency. Finding a suitor won't be easy. Castellanos bounced back in 2023 but is owed $60 million over the next three years.
The Phillies' top priority this offseason is either re-signing Aaron Nola or finding his replacement. Beyond that, they will likely add a late-inning right-handed reliever and could benefit from a bolstered bench.
Dombrowski believes if the Phillies can re-sign Nola or find a suitable replacement for the top of the rotation that this will be a World Series-level roster in 2024.
"I think if we do those things, we go into it being a World Series contender," he said/ "We've got a really good club, I think we have better than a 90-win club, myself. I think we do need to address how to get out of the gates quicker than we have. Two years in a row, we've dug ourselves holes that all the sudden after 50 games or so, we play at a 100-win pace. Well, it would be nice to start doing that from Day 1 coming out of spring training, and if we do that, it solves a lot.
"I think we have a very talented club. This is a good team. There's a lot of star players on this team and not only star players but good supporting players, too. Stott's good. Bohm's good. Marsh is good. I think Rojas is going to be good. (Cristopher) Sanchez has helped us. (Orion) Kerkering is going to be a good player for us. We have a good core of players.
"Any time you get beat, it's a downer, I'm not sitting here being all pumped up, but when you start looking through the eggs, we have a good team. And it's not like our guys are still not in their primes. I think we have to address the starting pitching situation, but if we do that, I'm in a position where I think this club, we can play, we're good."