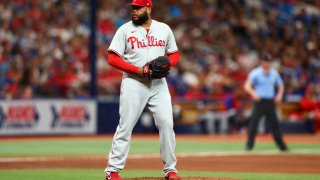 Jose Alvarado, out nearly six weeks with left elbow inflammation after missing a month with the same injury earlier this season, began a rehab assignment Tuesday night.
He allowed a hit in a scoreless inning with Triple A Lehigh Valley, throwing his fastball in the mid-to-high-90s. It was a tick below his norm but that is not a surprise given the time he's missed, the ramp-up process and the different adrenaline associated with pitching the third inning of a rehab game as opposed to the eighth inning of a big-league game.
A healthy Alvarado is crucial to the Phillies' hopes of advancing deep into October. From last All-Star break until his first bout of elbow inflammation in early May, he was as effective as any reliever in baseball — overpowering velocity and movement, command, the ability to dominate hitters from both sides.
He has a 1.38 ERA in 26 appearances with 39 strikeouts. When he went on the IL on May 7, he'd pitched 14⅓ innings without a walk. Upon his return, he walked nine in 11⅔ innings.
Gregory Soto has shifted into the top left-handed relief role for the Phillies sans Alvarado, who has missed half the season to this point. He's been more effective than his overall 4.84 ERA, not allowing an earned run in 40 of his 51 appearances.
Matt Strahm has shifted into the second lefty role Soto filled with Alvarado healthy. He has a 2.35 ERA and 0.98 WHIP in 15⅓ innings since the All-Star break with 17 strikeouts.
Griff McGarry, rated the Phillies' third-best pitching prospect, started for the IronPigs Tuesday and did not record an out. He faced seven batters, walking six with a hit by pitch. Six of them scored. He threw 35 pitches and 28 were balls. McGarry allowed eight runs in 2⅔ innings in his prior start. He had a 2.57 ERA in his prior nine starts with 60 strikeouts and 30 walks in 42 innings.