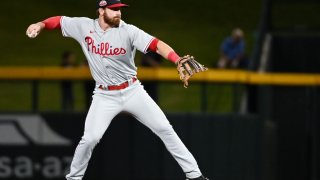 The Phillies made a minor-league trade with the Brewers on Tuesday afternoon, acquiring outfielder Hendry Mendez and infielder Robert Moore in exchange for infielder Oliver Dunn.
The move was announced five hours before the Phillies would have had to add Dunn to their 40-man roster to protect him from December's Rule 5 draft. Eligible players not added to the 40 by Tuesday's 6 p.m. deadline can be drafted by other teams on December 6 when the Winter Meetings conclude.
Dunn was named Breakout Player of the Year in the Arizona Fall League after putting together a big offensive summer with Double A Reading, where he hit .271/.396/.506 with 21 home runs.
The Phillies have other choices for utilitymen and chose to preserve 40-man roster flexibility while also getting something in return for Dunn. Mendez (19) and Moore (21) are much younger and farther away from the majors. They spent most of 2023 at High-A in the Brewers' system. Moore was Milwaukee's second-round pick in 2022 out of the University of Arkansas. Baseball America had them ranked as the Brewers' No. 20 and 25 prospects.
The Phils, who currently have 38 players on their 40-man roster, don't appear to have many difficult protection decisions ahead of Tuesday's deadline. One could be 6-foot-8 first baseman/outfielder Carlos De La Cruz, who had a few moments last spring training and hit .259/.344/.454 with 25 doubles, 24 homers, 54 walks and 160 strikeouts as a 23-year-old at Double A.