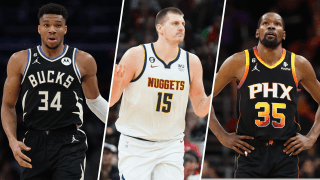 It took some time, and injuries definitely played a part, but the Denver Nuggets have been dethroned from the No. 1 spot.
They held it since the rankings started in the preseason, but the defending champions have slightly dipped in form after losing key players.
Meanwhile, the Orlando Magic are looking robust as a sleeper team out East with the Oklahoma City Thunder making similar strides out West.
Let's sort it all out with updated 2023-24 NBA Power Rankings as of Nov. 28:
*Rankings are based on current form since it's early, not if a team has more talent
30. Detroit Pistons, 2-15
The Pistons gave Monty Williams a bag this past offseason to be their head coach. They didn't pay him to lose 14 straight. (Last ranking: 29)
29. San Antonio Spurs, 3-14
It's not much better in San Antonio, where Victor Wembanyama and Co. have lost 12 in a row. The lack of a true No. 1 point guard remains, but they have the worst net rating in the league for a reason. (Last ranking: 27)
28. Washington Wizards, 3-14
The Wizards were on a putrid losing streak of their own before ending it against the mighty Pistons. Someone had to win that one, but it's not a pretty sight in Washington. (Last ranking: 30)
27. Memphis Grizzlies, 3-13
Somehow everything that could go wrong for Memphis is going wrong. The Grizzlies just have to wait it out until Ja Morant's return and go from there, but they'll need plenty of work to catch up to the rest of the conference. (Last ranking: 28)
26. Charlotte Hornets, 5-10
LaMelo Ball was having an excellent individual campaign before suffering yet another serious ankle sprain. They're not a play-in team with him with the roster as constructed, but losing him just adds to the frustration. Mark Williams continues to excel, though. (Last ranking: 25)
25. Chicago Bulls, 5-13
At this point, it's just a matter of when the Bulls are going to blow it up. Whatever the return for Zach LaVine and Co. is, they need to capitalize fast and pick a direction. And it's definitely not the one where they push for the playoffs again. (Last ranking: 22)
24. Portland Trail Blazers, 5-12
It's a shame Robert Williams III won't play this season to see how he fits into Portland's puzzle, and Anfernee Simons has still played just one game. Scoot Henderson is yet to flash No. 2 overall pick potential. (Last ranking: 24)
23. Utah Jazz, 6-11
Lauri Markkanen is carrying Utah and some contender would be smart to make a run at him before his next contract becomes a lucrative one. Jordan Clarkson is an interesting piece, too, depending on if Utah wants to tank or let the current core play it out. (Last ranking: 26)
22. Los Angeles Clippers, 7-9
The Clippers haven't done themselves any favors since James Harden's arrival, with Russell Westbrook now coming off the bench albeit producing efficiently. They have too many flaws and it'll take Tyronn Lue a lot to rectify them. (Last ranking: 21)
21. Los Angeles Lakers, 10-8
From the Clippers to around the top 10, the league currently is filled with parity, so it's tricky to separate the pretenders to the potential contenders. The Lakers' 44-point loss to Philadelphia just reiterated what's been true for a while: They're still too reliant on LeBron James. Darvin Ham isn't helping, either. (Last ranking: 20)
20. Toronto Raptors, 8-9
It's too early for a verdict, but the Raptors through a holistic lens don't seem to have changed all that much from last year. Gradey Dick's high selection hasn't helped all that much, either. (Last ranking: 17)
19. Brooklyn Nets, 8-8
The Nets aren't all that different to the Raptors both stylistically and their record. Cam Thomas' return should boost the offense while Mikal Bridges continues to be solid on both ends. Their lack of frontcourt depth remains the issue. (Last ranking: 18)
18. Cleveland Cavaliers, 9-8
While the Nets and Raptors are stacked with wings, the Cavaliers don't have any, at least quality ones. It's their one hole if they want to improve on the margins and climb up the rankings. (Last ranking: 19)
17. Atlanta Hawks, 8-8
Losing Jalen Johnson for about a month is a huge blow to an Atlanta team that showed signs of improvement on toppling the bigger threats out East. Let's see how they cope without him, but the early returns see them drop. (Last ranking: 10)
16. Golden State Warriors, 8-9
Boy are the Warriors lucky they have Stephen Curry still balling at an elite level. Draymond Green's suspension made them light defensively and they're just not getting consistent, quality production elsewhere. (Last ranking: 8)
15. New Orleans Pelicans, 9-9
New Orleans is the biggest riser in this tier, with Zion Williamson gradually improving and Jordan Hawkins' emergence as a rookie coming at an opportune time. CJ McCollum's return should only help the offense flow. (Last ranking: 23)
14. Miami Heat, 10-7
Thanksgiving just passed but the Heat certainly have to be thankful for Jaime Jaquez Jr. Every year Miami unearths a hidden gem to bolster the roster and the UCLA product has taken that mantle in 2023. (Last ranking: 15)
13. New York Knicks, 9-7
The Knicks stay in the same spot as not much has changed from last time out. Jalen Brunson may have gone up a level with Immanuel Quickley shining off the bench, but the rest is TBD. (Last ranking: 13)
12. Indiana Pacers, 9-7
The Pacers drop out of the top 10 for now after a one-time run. It's not necessarily their fault, some teams have just rightfully found themselves after shaky starts. Tyrese Haliburton can take this team to new heights, though. (Last ranking: 7)
11. Sacramento Kings, 9-6
A six-game win streak helped the Kings get back on track after a slippery start and they impressively toppled Minnesota on the road by double digits without Keegan Murray. They need a little more to reenter the top 10 they were in during the preseason. (Last ranking: 14)
10. Dallas Mavericks, 10-6
The Mavericks had a hot start but things have gone a little sideways since. They keep their top-10 spot thanks to Luka Doncic's heroics but there's only so much Dereck Lively II can do as a rookie center entrusted with a hefty workload. (Last ranking: 4)
9. Houston Rockets, 8-6
Houston is tied for the best defense in the league and it might just be sustainable under Ime Udoka. Alperen Sengun has gone up a significant amount with Jabari Smith Jr. shooting the ball at an eye-catching clip. The Rockets fell in this ranking – they have yet to win on the road at 0-5 – but they're still currently a top-10 unit. (Last ranking: 6)
8. Phoenix Suns, 11-6
To no surprise, a healthy Devin Booker sparked a seven-game win streak that helped Phoenix climb the rankings. They have yet to roll out a healthy lineup and that should be a scary prospect to ponder for the rest of the league. (Last ranking: 16)
7. Milwaukee Bucks, 12-5
Milwaukee is back in the top 10 after spending the last edition out. Giannis Antetokounmpo and Damian Lillard are predictably doing the heavy lifting, and Khris Middleton's recent injury only exacerbates that. (Last ranking: 11)
6. Oklahoma City Thunder, 11-5
The Thunder are playing at an elite level on both ends of the floor, with Shai Gilgeous-Alexander being the catalyst. Chet Holmgren offensively has been as good as advertised early on, but Josh Giddey's pending investigation is something to monitor. (Last ranking: 12)
5. Orlando Magic, 12-5
Whatever magic Orlando has going on right now, it's good for the league. The Magic have rattled off seven wins in a row with Paolo Banchero and Franz Wagner pioneering the movement. If they can add a star guard somehow, they can keep rolling. (Last ranking: 9)
4. Denver Nuggets, 12-6
Not having Jamal Murray was already a blow, but now Aaron Gordon and Nikola Jokic are dealing with knocks. They'll be fine once everyone is back, but for now they suffer a short-term drop from the No. 1 spot they have owned since preseason. (Last ranking: 1)
3. Philadelphia 76ers, 12-5
Joel Embiid and Tyrese Maxey are playing at absurd levels and Kelly Oubre Jr. is nearing a return from a frightening accident. Once he regains his form they'll improve again, with Nicolas Batum and Robert Covington serving as robust wing depth. (Last ranking: 3)
2. Minnesota Timberwolves, 12-4
There's a lot to like about Minnesota playing so well with everyone healthy for a decent stretch, something that didn't favor the group last season. Finding a way to keep Naz Reid has done wonders for the bench, though they're light on an elite scoring wing. Kyle Anderson's bench role has sufficed thus far. (Last ranking: 5)
1. Boston Celtics, 13-4
The new No. 1 is Boston. The Celtics have the most complete starting five and are a force at home, two factors that can take them the distance. Sam Hauser's rise has been immense for the bench, so mainly just health – and likely Denver at full strength – stands out as their prime threat. (Last ranking: 2)