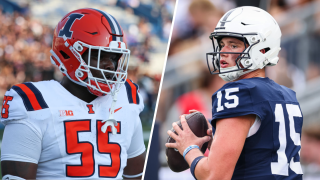 The Nittany Lions move on from a beat down of the Delaware Fightin' Blue Hens last weekend to take on the Fighting Illini this weekend in what will be the first Big Ten matchup for each team this season.
This weekend's game will also be the first on the road for the Nittany Lions, who remain at No. 7 in the AP poll for the third straight week.
In their first two games, the Nittany Lions have outscored their opponents 101-22.
For the Fighting Illini, however, this season has brought more mixed results so far.
The Fighting Illini defeated Toledo 30-28 in their home opener thanks to a game-winning field goal in the final seconds.
In Week 2, Illinois lost on the road to Kansas, 23-34.
College football is back
The third week of the college football season is underway. Here's a look back at some of the history behind the game.
In this matchup, the Fighting Illini will try to defeat their powerhouse Big Ten rival as they continue their quest for their first Big Ten division title, while the Nittany Lions aim to secure a conference win that will help them finally move up in the national rankings.
Here's what to know to watch as Penn State takes on Illinois:
When is the Penn State vs. Illinois game?
The Nittany Lions will take on the Fighting Illini on Saturday, Sept. 16.
What time is the Penn State vs. Illinous game?
Kickoff at Memorial Stadium is at 12 p.m. ET.
What channel is the Penn State vs. Illinois game on?
The game can be watched on FOX.
How can I watch the Penn State vs. Illinois game?
The game can be watched with a traditional cable subscription that includes FOX, as long as you live in an area the game will be televised in. You can also watch the game on the FOX Sports app.