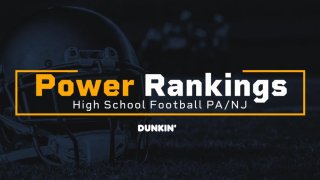 Malvern Prep. 
Those two words should be top of mind for every high school football fan in Southeastern Pa. this week. The Friars shocked Archbishop Wood, recording a shutout in the area's biggest, most decisive upset of this season so far.
Yes, most of this week was filled with top-10 teams doing what they do best: Utterly trouncing opponents. And, no, there hasn't been much movement in the top-10 this season. 
But Malvern Prep's upset of Archbishop Wood is why we're here. It's what makes high school football fun. 
Those types of matchups appear more often as the season goes on. Right now, it's hard to not to look ahead to St. Joseph's Prep's Oct. 1 meeting with La Salle. But let's take a deep breath: There's still an entire week of action before that.  
1. St. Joseph's Prep 2-1 (Last week: 1) 
A week after losing to Milton (which still just doesn't sound right), St. Joseph's Prep righted its ship in a big way with a 35-3 trouncing of Gonzaga (Washington D.C.). Gonzaga actually came into the contest with higher national ranking than St. Joe's. Hawks sophomore quarterback Samaj Jones continues to be a standout. He rushed for over 100 yards, including a 59-yard touchdown run in the first quarter to swing momentum in his team's favor. A vaunted Hawks defense clearly played up to its billing in this one, allowing just three points against a national caliber opponent that came into the contest averaging more than 26 points per game. 
2. La Salle 4-0 (2) 
La Salle brushed aside Haverford 44-0 on Friday night – this was a week after beating Imhotep in arguably the area's biggest game of the young season. The Explorers look like real challengers for the area's top team and will have chance to knock off St. Joseph's Prep on the field on Oct. 2. But before that, La Salle will try to take care of business against McDonogh (M.d.) this weekend. 
3. Imhotep Charter 2-1 (3) 
Imhotep was idle this weekend but returns next weekend against Simon Gratz. 
4. North Penn 4-0 (4) 
The Knights passed their first real test of the season with flying colors – no, really, the team was flying Friday night in a 35-20 win over Upper Dublin. Quarterback Ryan Zeltt (11 of 18 passing for 202 yards and three touchdowns) and receiver Levi Carroll (4 receptions 62 yards) connected a on a few highlight reel plays, including two touchdowns. Running back Khalani Eaton rumbled his way to yet another 100+ yard game and two rushing touchdowns. This offense is looking as well-rounded as any in the area. 
5. Malvern Prep 2-1 (7)  
If there was a dictionary of old sports clichés, a picture of this box score would fit nicely next to the entry for "statement win." It sums up Malvern Prep's 21-0 shocker over Archbishop Wood on Saturday afternoon. It wasn't necessarily the win that was shocking (although almost everyone had Malvern Prep as an underdog), it was the final score. It was the way Malvern Prep seemingly pushed Archbishop Wood around the field. The defense recorded four sacks, shutting out a a team that put up 46 points last week. Running back Yaahdir Nash swung momentum in Malvern Prep's direction with a 77-yard touchdown reception in the second quarter. He's been a catalyst of what is shaping up to be a special season for Malvern Prep. 
6. Archbishop Wood 3-1 (5)
Archbishop Wood had breezed through its first three games – so a 21-0 loss to Malvern Prep Friday night may ultimately serve as something of a needed wakeup call. The Vikings couldn't get anything going on either side of the ball after falling behind 14-0 in the first half. But the team is still one of the most talented in the area and will look to display that next week against St. John's (Washington D.C.). 
7. Garnet Valley 4-0 (6)
Garnet Valley's early season dominance continued this weekend in a 61-12 route of Upper Darby. Jason Bernard and Ryan Saunders each scored three touchdowns for Garnet Valley. The score likely won't be as lopsided this upcoming weekend when Garnet Valley meets Central League rival Strath Haven in a battle of unbeatens. 
8. Downingtown East 4-0 (8) 
Downingtown East jumped out to a 21-0 lead and never looked back Friday night in a 28-13 win over Bishop Shanahan. For the second week in a row, running back Bo Horvath put up more than 200 yards in a single game. He carried the ball 36 times for 224 yards against Downingtown East. 
9. Quakertown 3-0 (9)
Quakertown was able to grind out a 36-20 win over Abington on Friday night thanks to a monster performance from running back Tyler Woodman who rushed for 231 yards and three touchdowns. This was actually the least amount of points Quakertown has put up in a single game this season.
10. Neumann-Goretti 2-1 (10) 
After a bye week, Goretti bounced came back with a 14-7 win over Catholic League rival Archbishop Ryan on Thursday. 
For any comments or questions about these rankings – or if you have an area high school sports story you think needs to be told, contact Chris Melchiorre at CMelchiorre11@yahoo.com.