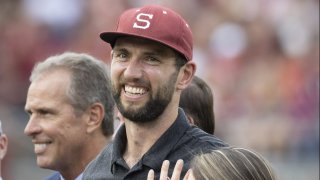 Andrew Luck made his way back to the football field for Thursday Night Football, and he did it in iconic fashion.
The ex-Indianapolis Colts quarterback showed up to the San Francisco 49ers-New York Giants game dressed as a Union officer from the Civil War.
The look was a tribute to the fan-favorite social media account, @CaptAndrewLuck, which existed while Luck was still playing and weened off after his retirement in 2019.
During the Amazon Prime postgame show, Luck was asked how he had been.
He comically responded, "Great, the war is over," which sparked laughs on set.
If there's anything Luck proved, it's is the importance of not taking life too seriously.
When did Andrew Luck retire?
After seven seasons with the Colts, Luck retired ahead of the 2019 season, citing injuries.
He was inducted into the College Football Hall of Fame in 2022.
What is Andrew Luck doing now?
Luck is working part-time as a football coach at Palo Alto High School.