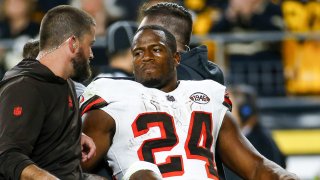 Cleveland Browns star Nick Chubb appeared to suffer a serious leg injury vs. the Pittsburgh Steelers on Monday.
During the team's AFC North matchup on prime time, Chubb went down with the injury early in the second quarter with the Browns in the red zone.
Chubb's teammates attempted to pull him up to the ground, but the 27-year-old visibly shook his head to stay down. He would eventually be carted off the field.
ESPN did not show a close-up replay due to the nature of the injury.
The Browns shortly after ruled out Chubb for the rest of the game with a knee injury.
Chubb was in the middle of a solid display, too, rushing for 64 yards on 10 carries, including a 20-yarder. Last week, he collected 106 ground yards on 18 carries against the Cincinnati Bengals.
But now Browns and NFL fans are fearing the worst for Chubb's season. Here's how social media reacted to the situation: